Apple Sends Out Media Invites for an 'It's Show Time' Event on March 25
Apple today sent out invites for a media event that will be held on Monday, March 25 at the Steve Jobs Theater on the Apple Park Campus. As with most Apple events, it will start at 10:00 a.m. Pacific Time or 1:00 p.m. Eastern Time.
The event features the tagline "It's Show Time," which is in line with rumors suggesting it will focus on services rather than hardware. Apple is expected to use the event to unveil its rumored Apple News service and a streaming TV service.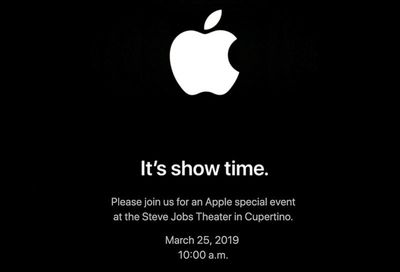 The ‌Apple News‌ service will add paid subscription options to ‌Apple News‌, allowing Apple customers unlimited access to magazines and paywalled content from sites like The Wall Street Journal, the Washington Post, and The New York Times for a $9.99 per month fee.
It's not yet clear which news sites will be included, as Apple is said to be still negotiating financial terms with some news sites. Apple has asked for 50 percent of the revenue from the service. Magazines are on board with the fee, but news sites with independent revenue streams from their own subscribers are reluctant to jump on board.
As for the TV service, Apple is
planning an announcement
, but an actual launch is months off. Apple has more than two dozen original TV shows in the works, many of which have been cast, that will eventually debut through the streaming service.
Major stars that include Jennifer Aniston, Reese Witherspoon, Jennifer Garner, and Steve Carell, all of whom have roles in Apple shows, have been invited to attend the event.
There are multiple hardware products that are rumored for a spring launch, but so far, rumors have indicated that these devices will not be announced at the event. Instead, we could see these new products unveiled via press release right around the time of the event.
The iPad mini 5, seventh-generation iPad, AirPower, updated AirPods, and a seventh-generation iPod touch are all in the works and will be coming soon, but none of these updates are major enough to warrant time on stage so it makes some sense for them to debut more quietly.
It's still possible, of course, that the products we're expecting in the spring will see some stage time, despite rumors.
According to an announcement posted on the main Apple website and the Events website, Apple will livestream the "It's Show Time" event on its website and through the events app on the Apple TV.


Following the event, Apple will likely release the iOS 12.2 update that's currently being beta tested in order to make the ‌Apple News‌ subscription service available. Signs of a subscription service have already been spotted in the update, suggesting Apple is planning for a post-event iOS 12.2 release.