Apple and Goldman Sachs Expected to Launch Credit Card Later This Year With Unique Features in Wallet App
Apple and investment bank Goldman Sachs plan to launch a joint credit card later this year, according to The Wall Street Journal.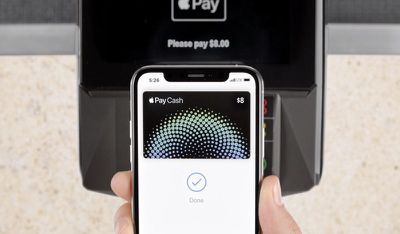 The report claims the card will be rolled out to Apple employees for internal testing in the next few weeks and officially launch later this year. The card would be accessible through the Wallet app on iPhone, potentially with unique features for setting spending goals, tracking rewards, and managing balances.
Executives have discussed borrowing visual cues from Apple's fitness-tracking app, where "rings" close as users hit daily exercise targets, and sending users notifications about their spending habits. There also could be notifications based on analysis of cardholders' spending patterns, alerting them for example if they paid more than usual for groceries one week.
The card will be issued by Goldman Sachs and use Mastercard's payment network, according to the report. The card is said to offer around two percent cashback on most purchases and potentially more on Apple products and services.
Apple has tweaked the Wallet app's interface in the iOS 12.2 beta, potentially foreshadowing the credit card's arrival.

Wallet app in iOS 12.2 beta on left, previous version on right
The Wall Street Journal
first reported on these plans last year
, noting that the Goldman Sachs card could replace the
Barclaycard Visa with Apple Rewards
currently issued in the United States. Apple is expected to collect a higher percentage of fees from the Goldman Sachs card, boosting its services revenue.