Sony Releases Remote Play App to Control Your PS4 With iPhone or iPad
Sony today released a new app called "Remote Play" for iOS devices, after launching the same app on Android a few years ago. The app allows you to connect your iPhone or iPad to your PS4, and directly control both the console interface as well as most games through on-screen iOS touch controls [Direct Link].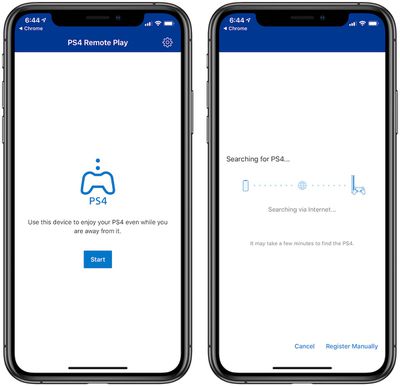 To get everything set up, make sure your PS4 is updated to version 6.50 (which just began rolling out in the early hours of the morning). Then, download the PS4 Remote Play app from the iOS App Store, sign into your Sony account in the app, and allow it to search for your PS4. You'll need to be on a Wi-Fi network for this to work, as the app cannot be used via mobile networks.
Once connected, you'll see your PS4 home screen displayed on your ‌iPhone‌, sitting above a row of touch controls that mimic the buttons on a DualShock 4 controller. If you tilt the ‌iPhone‌ to a horizontal orientation, the buttons will disappear until you tap on the display.


The app supports the ability to talk to your friends in a party or through game chat, but you'll have to allow it access to the iOS microphone. The app's controls include the DualShock 4's Share and Options buttons, as well as the central PlayStation logo that brings you back to the home screen.


You can browse around the PS4 and launch most games in the Remote Play app, but Sony does note that there are some games that will be incompatible with the app. Additionally, you can't directly connect the DualShock 4 to the ‌iPhone‌ to play games.
Sony has shown interest in iOS in the past, previously launching an app called "PlayLink", which enabled synchronous multiplayer gaming between the PS4 and iOS device. PlayLink games relied on the PS4, however, and iOS devices acted as extensions to the main events happening on the TV, including experiences like a mini-game collection, comedy quiz show, and hidden identity game.


There have also been apps like R-Play that have functionality similar to Sony's Remote Play app, allowing users to play their PS4 while not at home. R-Play costs $11.99 to download [Direct Link] while Sony's new Remote Play app is free to download [Direct Link].