Chinese Online Retailers Start Second Round of iPhone Discounts
Online retailers in China have begun discounting iPhones for the second time this year. Reuters reports that several mobile vendors this week announced discounts on iPhone models, including Apple's latest flagship ‌iPhone‌ XS and ‌iPhone‌ XS Max.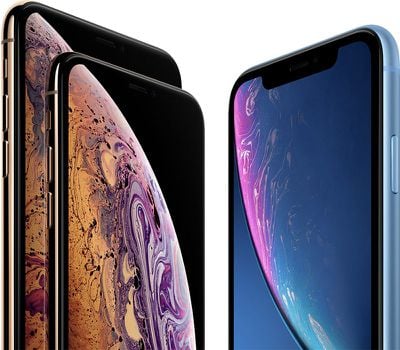 Gadget retailer Suning.Com Co Ltd said it would slash the price of the iPhone XS by as much as 1,000 yuan ($148.95) from its official price. Suning had lowered the prices of other iPhone models in January along with other retailers, but those cuts excluded the iPhone XS.

Pinduoduo Inc, an e-commerce site best known for selling inexpensive goods, has also said it would sell the 64GB edition of the iPhone XS for 6,999 yuan, a drop of over 1,000 yuan from the official price.
JD.com is also reportedly poised to offer discounts on its Apple products, including the ‌iPhone‌ XS and XS Max, which escaped the online retail giant's first major round of discounts in January.
Apple first dropped iPhone prices for third-party distributors in China on January 10, allowing vendors to purchase iPhones more cheaply and pass those savings on to customers. Apple cut prices on most ‌iPhone‌ models, but the XR saw the biggest discounts.
Apple launched the price cuts after seeing ‌iPhone‌ sales fall significantly in China during the holiday quarter of 2018, leading to lower ‌iPhone‌ revenue than expected. One report said Apple was seeing improved ‌iPhone‌ sales in China following the price cuts.
Apple has also partnered with Ant Financial, the finance arm of Alibaba Group Holding Ltd, and several state-owned banks to let consumers purchase iPhones via interest-free loans.
Apple CEO Tim Cook said in January that the company was reevaluating its pricing strategies in some international markets, returning to pricing that's "more commensurate" with what local prices were last year to boost its ‌iPhone‌ sales.
Cook also said he believes Apple's higher prices were a factor in the declining number of ‌iPhone‌ upgrades that led to a weaker holiday quarter. In some international markets, the strength of the U.S. dollar amplified pricing increases.