iOS 12 Now Installed on 83% of All Devices From the Last Four Years
Four and a half months after launch, the iOS 12 operating system is installed on 83 percent of devices released in the last four years, according to updated iOS 12 installation statistics shared on the App Store support page for developers.
Since the launch of iOS 12, Apple has been presenting its data in two ways, offering up installation rates on both recent devices and older devices.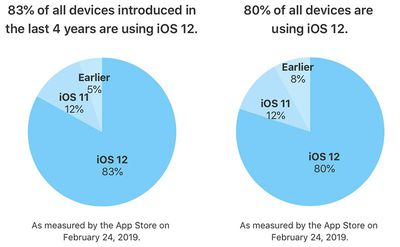 While 83 percent of devices from the last four years are running iOS 12, 80 percent of total active iOS devices have the update installed. 12 percent of devices continue to use iOS 11, while five percent of devices from the last four years run an earlier version of iOS.
At the beginning of January, iOS 12 was installed on 78 percent of devices, so adoption rates have grown five percent over the course of the last several weeks.
Apple has released iOS 12.1.3 and iOS 12.1.4 since the beginning of January, along with the iOS 12.2 beta. iOS 12.1.3 and iOS 12.1.4 were bug fix updates while iOS 12.2, which is also available to public beta, expands Apple News, brings new AirPlay 2 features for TVs, introduces new Animoji, and more.
People have been adopting iOS 12 faster than iOS 11. In April 2018, iOS 11 was still only installed on 76 percent of devices, perhaps because of the myriad bugs that plagued the iOS 11 operating system over its lifetime.
Though just released in September, focus on iOS 12 will be shifting to iOS 13 in a matter of months. Apple will preview iOS 13 at its Worldwide Developers Conference, and the new update is rumored to feature some promising changes such as a long-awaited dark mode and important interface updates for the iPad.