Longtime iPhone Executive Named New Head of Augmented Reality Marketing
Apple has named longtime Apple employee and iPhone executive Frank Casanova as its first head of marketing for augmented reality, reports Bloomberg.
Casanova, who has been at Apple since 1988, is responsible for all aspects of product marketing for Apple's "augmented reality initiative," according to his LinkedIn profile.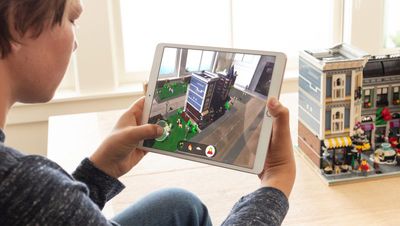 Prior to being named head of Apple's AR marketing effort, Casanova worked as Apple's senior director of ‌iPhone‌ partner marketing. He started at Apple as a product manager in May 1988, spent a short stint at another company for a year in 1997, and has been working at Apple since then. He was around for the launch of the ‌iPhone‌ as well as many other pivotal products.
As Bloomberg points out, Apple's decision to name a head of product marketing for augmented reality indicates the importance of the feature for the future of the company. Apple debuted ARKit, its augmented reality platform, in iOS 11, and made significant improvements to it in iOS 12.
ARKit turned Apple's iPhones and iPads the largest augmented reality platform available, with many apps now taking advantage of augmented reality capabilities.
Apple is also working on improved AR functionality for iPhones in 2020 through a laser-based 3D rear camera, and the company is said to have an augmented reality headset in the works, which could launch around the same timeframe.