Qualcomm Demands German Court Fine Apple for Continuing to Sell iPhones After Ban
Qualcomm today filed a motion calling for a German court to levy fines against Apple for not complying with a December import ban barring iPhone 7 and ‌iPhone‌ 8 models from being sold in Germany, reports Bloomberg.
According to Qualcomm, Apple failed to properly recall the banned iPhones from third-party sellers and continued to sell them in some Apple Stores in early January. Qualcomm in early January posted 1.34 billion euros in security bonds to enforce the ban, and Apple pulled its iPhones entirely from the country the next day.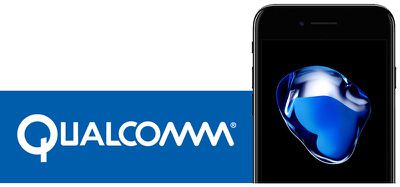 Qualcomm general counsel Don Rosenberg said that Apple "intentionally" defied the court order and continued to sell iPhones in some stores, and that the company "obviously" doesn't consider itself "bound by the injunction."
"Significant fines must be imposed to put a check on that," he wrote in a statement to Bloomberg.
To prove Apple's non-compliance with the order, Qualcomm pointed towards a December press release that Apple has already been forced to retract. In the press release, Apple said that while the ‌iPhone‌ 7 and ‌iPhone‌ 8 models would be unavailable for purchase at its own retail stores, the devices would be available from carriers and third-party retailers.
Qualcomm and Apple have been embroiled in an increasingly tense legal battle since January 2017. Qualcomm has thus far won sales bans on older devices in China and Germany, rulings that Apple is fighting against.
Over the course of the last month, representatives from both companies were in a Northern California court for the Qualcomm v. FTC antitrust lawsuit. The FTC has accused Qualcomm of using anticompetitive tactics to remain the main supplier for baseband processors for smartphones, an argument similar to Apple's.
The Qualcomm/FTC trial wrapped up yesterday, and we are awaiting a verdict from the presiding judge, Lucy Koh, who also handled Apple v. Samsung.