German Court Issues Sales Ban on Select iPhones Violating Qualcomm Patent, Apple Plans to Appeal [Updated]
A court in Germany today ruled that some iPhone models equipped with Intel modems infringe on a Qualcomm hardware patent, and issued a preliminary injunction on those devices, according to Reuters and CNBC. However, the reports claim the ruling will not go into immediate effect if Apple appeals, and it almost certainly will.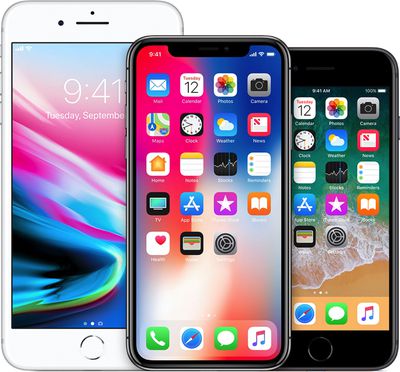 Matthias Zigann, the judge presiding over the case, ruled that iPhones that contain a combination of chips from Intel and Apple supplier Qorvo violated one of Qualcomm's patents around so-called "envelope tracking," a feature that helps preserve battery life when sending and receiving wireless signals.
The preliminary injunction would prevent affected iPhones, excluding the iPhone XS, iPhone XS Max, and iPhone XR, from being sold in Germany.
Last week, a Chinese court also issued a preliminary injunction on the iPhone 6s through iPhone X after the court found those devices violated two separate Qualcomm patents related to app management and photo editing. Apple continues to sell those iPhone models in China, though, despite the ruling.
Apple said it believes it is in compliance with the Chinese court order, but it later released iOS 12.1.2 with minor changes to address the Qualcomm patents, including a new animation for force closing apps and tweaked settings for contact and wallpaper images. The changes were only made in China.
In a statement issued on Tuesday, Qualcomm's chief lawyer Don Rosenberg said that
Apple continues to "flout the legal system"
by violating the preliminary injunction in China and by releasing misleading statements about the ruling.
Apple called Qualcomm's efforts in China "another desperate move by a company whose illegal practices are under investigation by regulators around the world," and said that "Apple and many other companies, consumers, and government will suffer truly irreparable harm" if the sales ban were to be upheld.
The litigation in Germany and China is part of a larger legal battle between Apple and Qualcomm. Last year, Apple accused Qualcomm of anticompetitive business practices related to licensing fees, while Qualcomm has accused Apple of sharing its trade secrets with Intel, its new modem supplier in iPhones.
In the U.S., the FTC filed a complaint against Qualcomm over its business practices last year. The case is set to go to trial in California next month.
Update: Apple has confirmed that it plans to appeal the ruling. In the meantime, it is pulling iPhone 7 and iPhone 8 models from its shelves at its retail stores in Germany, but not resellers or carriers.