Huawei Surpasses Apple to Become #2 Worldwide Smartphone Vendor in Q2 2018
With 54.2 million smartphones shipped in the second calendar quarter of 2018, Chinese smartphone company Huawei has surpassed Apple to become the number two worldwide smartphone vendor, according to new data shared today by IDC.
During the quarter, which includes data from April to June, Apple shipped 41.3 million iPhones worldwide, a number that it shared earlier today with its earnings release for its third fiscal quarter. In the year-ago quarter, Apple shipped 41 million iPhones, marking just a small increase in shipments this year.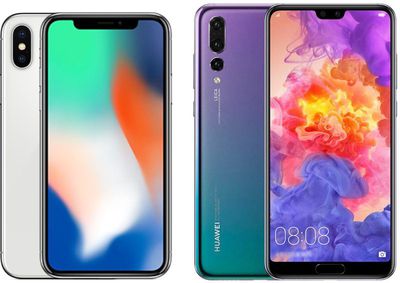 According to IDC, Apple's share of the smartphone market for the quarter was 12.1 percent, compared to Huawei's 15.8 percent. Huawei saw 41 percent year-over-year growth in market share with an increase of 15.7 million smartphones shipped in Q2 2018 compared to Q2 2017.


Samsung continues to be the number one smartphone vendor with 71.5 million smartphones shipped and 20.9 percent of the market, with Xiaomi and OPPO trailing after Apple and Huawei with 31.9 and 29.4 million smartphones shipped, respectively. Canalys, Strategy Analytics, and IHS Market have also published data agreeing with IDC's assessment of the smartphone market.
In total, IDC says there were 342 million smartphones shipped during the second quarter of 2018, a 1.8 percent decline from the 348.2 million smartphones shipped during the second quarter of 2017.


While Apple's iPhone shipments were largely stagnant year-over-year, the higher average selling price it achieved with the iPhone X resulted in an impressive 20 percent increase in revenue and iPhone earnings of nearly $30 billion.
IDC's numbers look only at total number of smartphones shipped, with Huawei seeing major growth in the $600 to $800 segment thanks to the P20 and P20 Pro series.
We are likely to see shifts in these smartphone vendor rankings over the course of the next few quarters as this is Apple's weakest quarter. At this point, Apple's flagship iPhones are several months old, which always results in a slowdown in sales. After new devices are released in the fall, Apple will see much stronger shipment numbers during the fiscal fourth quarter of 2018 and first fiscal quarter of 2019.
Apple dropped to the third spot for the first time despite its second quarter growth. Apple shipped 41.3 million iPhones, representing modest growth of 0.7% over the 41.0 million units shipped last year. The iPhone continued to perform well at the high end as the iPhone X remains a top seller in many markets. Apple will look to regain control of the market this fall with the expected launch of three next generations of iPhone models. The new models are rumored to bring different screens sizes, price points, increased performance, and new features to the table when they arrive next quarter.
Rumors suggest Apple plans to better compete in the mid-priced smartphone market in late 2018 and 2019 with a lower-priced 6.1-inch feature-rich iPhone that offers Face ID, an edge-to-edge display, and the same fast processor as the company's more expensive OLED models.