In the next official update to macOS Mojave, Apple's Safari browser will enable automatic Dark Mode for websites that support it.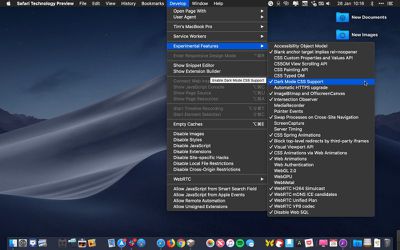 Since the release of Safari Technology Preview 68 in October, Apple has been building support for the use of ‌Dark Mode‌ CSS, which can be enabled via its Develop -> Experimental Features menu. The experimental feature has now also made its way into the latest macOS Mojave 10.14.4 developer beta.
macOS Mojave enables users to switch between Light and Dark mode via System Preferences -> General. With the latest macOS developer beta installed, websites that support the new CSS query will automatically adapt their color scheme to match whichever system-wide option the user has enabled.


As noted by iDownloadblog, developers running the macOS 10.4.4 beta can test out the new feature by visiting software engineer Kevin Chen's website, which already supports the new Safari CSS media query. Everyone else can give it a spin by downloading the latest version of Safari Technology Preview, which can be run alongside vanilla Safari in any version of macOS Mojave.