Los Angeles Metro Transit System Plans to Support Apple Pay This Fall
The Los Angeles rail and bus transit system should allow iPhone-owning members of the public to use Apple Pay for fare payments before the year is out.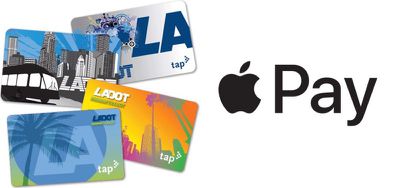 MacRumors can confirm that LA Metro, the transit agency that manages integration of the TAP card system in the Los Angeles Area, said it is working with Apple to support mobile payments for iPhones, with rollout scheduled for this fall. The information was obtained in a public information request under California law.
The support comes as part of a major update to the TAP system currently underway, which includes upgraded fare boxes across the transit system that will receive real-time data about fares purchased by the public online, a new TAP mobile app with TAP Wallet support to debut in late summer, and eventual support for Android phones with NFC, although the timeframe for the latter is unknown.
‌Apple Pay‌ support would enable commuters to hold a compatible iPhone or Apple Watch near a TAP card reader to pay their fare on buses and at turnstiles in subway stations throughout the TAP system.
The process is similar to using ‌Apple Pay‌ for in-store payments. Depending on the ‌iPhone‌, that means double-pressing the home button or side button, authenticating with Touch ID or Face ID, and holding the device near the card reader. Apple Watch payments are also activated by double-pressing the side button.
Los Angeles would join a handful of cities with transit systems that already support Apple Pay, including Chicago, Portland, and Salt Lake City in the United States, Beijing and Shanghai in China, and other global cities like London and Tokyo.
LA Metro's introduction of ‌Apple Pay‌ support is expected to increase public use of the transit system, which despite offering good accessibility, has seen its ridership figures wane in recent years.
A 2016 study by the University of Minnesota found the LA Metro to be the third most comprehensive system in the entire United States. However, in a metropolitan area of 13 million people, only about 360,000 people use rail on an average weekday, and just 855,000 ride the bus.
By contrast, in New York City, which has a population of around nine million, about five million people ride the subway on an average weekday.