A larger portion of the world's iPhones could one day be manufactured in India, if a new report by the Wall Street Journal proves accurate.
According to Tuesday's report, Apple's main iPhone assembler Foxconn is considering building production plants in India as a way to diversify its supply chain away from China, where most of the Taiwan-based firm's facilities currently reside.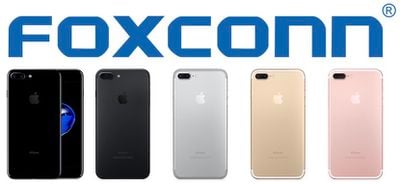 Executives at Foxconn, a contract manufacturer that assembles a large portion of the world's iPhones in China, are studying whether to include an India project in budget plans, one of the people said. Senior executives, possibly including Chairman Terry Gou, plan to visit India after next month's Lunar New Year to discuss plans, the people familiar said.
Apple currently manufactures most of its iPhones through Foxconn, but the latter's potential new project in India points to Apple's vulnerability to rising U.S.-China tensions over trade and technology. Both Apple and Foxconn declined to comment on today's report, but it is thought that manufacturing iPhones in India could help Apple lower prices by allowing it to avoid a tariff that adds 20 percent to devices imported from China.
Foxconn already has plants in India, and late last year it was reported that the firm would invest around $356 million to expand its facilities there to begin assembling Apple's high-end iPhones. Wistron assembles iPhone SE and ‌iPhone‌ 6s models in India exclusively for the Indian market, but the December report didn't say whether the high-end iPhones assembled by Foxconn would be sold in the country or elsewhere in the world.
Early last year, Apple revamped its India strategy in order to stay afloat in the country's smartphone market. This strategy includes better and longer-lasting retail deals with higher sales targets, the debut of official Apple retail stores in India, and an overhaul of the company's relationship with independent retailers.
Just one in four Indians own a smartphone, providing Apple with an opportunity to sell iPhones to millions of new customers in the country. However, Apple is said to have seen little success so far, with Apple's market share in the country dropping to about one percent in 2018, from about two percent the previous year.