Apple Partnering With Foxconn to Build High-End iPhone Models in India Next Year
Following the iPhone SE and iPhone 6s, Apple will begin assembling its high-end iPhones in India sometime in 2019, according to a new report today by Reuters. Instead of Wistron, Foxconn will build the high-end iPhones, and these models are said to be the most expensive flagship devices offered by Apple, including the iPhone X family.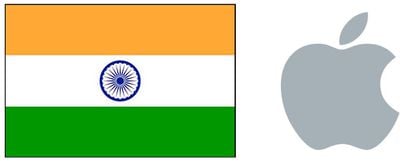 Local sources state that the work will occur in Foxconn's plant in Sriperumbudur town in the southern state of Tamil Nadu. Foxconn will reportedly invest 25 billion Indian rupees ($356 million) to expand the plant, part of which will be focused on the production of the flagship iPhones in India. The investment is estimated to create as many as 25,000 jobs. The report doesn't say whether these high-end iPhones will be sold in the Indian market or elsewhere in the world.
Earlier this year, Apple revamped its India strategy in order to stay afloat in the country's smartphone market. This revamped strategy includes better and longer-lasting retail deals with higher sales targets, the debut of official Apple retail stores in India, an overhaul of the company's relationship with independent retailers, and improving apps and services for local users. This is said to include a new version of Apple Maps aimed at Indian users to launch by 2020.
The expansion of high-end iPhone assembly outside of China could also be an attempt by Apple to "limit the impact" of a trade war between the United States and China:

For Apple, widening assembly beyond China is critical to mitigate the risks of the Sino-U.S. trade war. Foxconn, the world's biggest electronics contract manufacturer, is considering setting up a factory in Vietnam, Vietnamese state media reported this month. If that goes ahead, it will be one of the biggest recent steps by a major company to secure an additional production base outside of China.

Foxconn has previously admitted the China-U.S. trade spat was its biggest challenge and that its senior executives were making plans to counter the impact. "Widening iPhone manufacturing in India through Foxconn will allow Apple to hedge the risk of any new U.S. trade policies," said Navkendar Singh, an associate research director at International Data Corporation.
Still, the company has struggled in the country due to the high price of its iPhones. Just last week, The Wall Street Journal published a report about Apple's iPhone sales in India. According to the paper, Apple has had "little success so far" in terms of growth in India, due to the price-sensitive market that has more than 75 percent of smartphones priced below $250.