Apple Has Encountered 'Little Success' Growing in India Due to High Prices of iPhones
The Wall Street Journal has published an in-depth look at Apple's efforts to grow its sales in India, the "world's biggest untapped tech market." With smartphone sales flattening in saturated markets like the United States, Apple is said to have turned to India for new growth, but with "little success so far."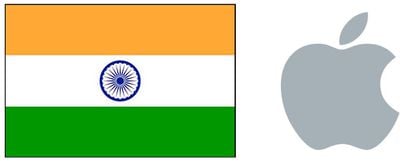 The report claims that just one in four Indians own a smartphone, providing Apple with an opportunity to sell iPhones to millions of new customers in the country. The issue is that India is a very price-sensitive market, with more than 75 percent of the smartphones sold in the country costing "less than $250."
Apple-authorized reseller Flipkart continues to sell the iPhone SE in India for around $250, but other iPhone models are priced between the equivalent of $325 and $1,950 in the country, well above the budgets of many Indian customers.
The Wall Street Journal explains:
At the heart of the issue is Apple's reluctance to change its traditional business model for selling the iPhone. Rather than make a range of handsets, it has prioritized a limited number of coveted products, sold at high prices—a strategy that revived the company after near bankruptcy in 1997 and helped make it the first U.S. public company to reach a $1 trillion valuation.
The report claims the number of iPhones shipped in India has fallen 40 percent so far this year compared with 2017, and Apple's market share in the country has dropped to about one percent from about two percent, citing research firm Canalys.
Apple created a five-year plan to increase Apple's sales in India to $5 billion by 2020, but the iPhone maker posted revenues of $1.8 billion in the country in its most recent fiscal year, according to the report, suggesting that the company is unlikely to meet its target without explosive growth within the next fiscal year.
Government policies haven't helped the situation. Apple has faced difficulties in openings its first retail store in India, for example, as the country requires single-brand, majority-foreign-owned retailers to source at least 30 percent of their manufacturing materials from India-based suppliers.
As one would expect, though, Apple CEO Tim Cook remains optimistic about Apple's future in India based on his recent comments.
"We've had really great productive discussions with the Indian government and I fully expect that at some point they will agree to allow us to bring our stores into the country," Cook said on Apple's earnings call last month. "We've been in discussions with them and the discussions are going quite well."
"I am a big believer in India," he added. "I am very bullish on the country, and the people, and our ability to do well there."