Apple CEO Tim Cook: 'Apple's Most Important Contribution to Mankind' Will Be in Health
In an interview with Mad Money's Jim Cramer that aired tonight, Apple CEO Tim Cook discussed a wide range of topics, including Apple's future product plans, its health ambitions, wearable sales, and Siri improvements.
According to Cook, Apple's product pipeline has "never been better," a line that he often repeats. Apple is, in fact, working on new services that are coming this year, says Cook, though he declined to provide additional detail.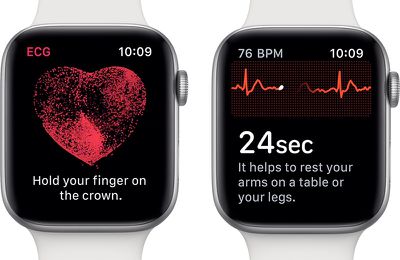 I believe it'll be material over time. I'm not gonna forecast precisely, the ramps and so forth. But they're things that we feel really great about, that we've been working on for multiple years.
We do know that Apple has a major TV-related service in the works, with more than a dozen original television shows and movies being produced right now.
Cook also said that health is a major focus of Apple, and that health may actually end up being "Apple's greatest contribution to mankind."
We are taking what has been with the institution and empowering the individual to manage their health. And we're just at the front end of this. But I do think, looking back, in the future, you will answer that question, Apple's most-important contribution to mankind has been in health.
Cook pointed towards Apple's work on Research Kit and CareKit for increasing research pools and improving bedside care, along with the Medical Records feature that allows users to access their medical records from multiple providers right on their iPhones.
Cook also mentioned the Apple Watch earlier in the interview, and said that he regularly reads emails from customers who tell him how the Apple Watch has changed their lives by motivating them to be more fit or finding heart problems through the new ECG feature that detects atrial fibrillation. "These are life-changing things," said Cook.
Apple's wearables business, which includes the Apple Watch and the AirPods, has already exceeded the iPod business by 50 percent at the iPod's peak, Cook went on to say.
And so already, exceeded it by 50 percent at its peak. At its peak. Also, if you take AirPods and the Watch separately, and you sort of back these up and align it to the launch date of iPod, as well, and, you know, where all of them have a comparable amount of time, you would find that each one, independently, is, like, four to six times ahead of where iPod was at a comparable period of time.
Cook was also asked about Siri, and whether Apple would throw more money at it if the company had "unlimited capital." In response, Cook said that Apple is "putting a ton of investment" in Siri.
There are more than 500 million devices using Siri in 21 languages and 30 countries. Cook says Apple wants Siri to be in every country, and that "quality is going up."
You know voice is a never-ending journey. We all speak a bit differently. I have a southern dialect, not as southern as I used to. But there's a lot of stuff to do there. But I'm highly confident in our ability to keep innovating like crazy there.
A complete transcript of Cook's Mad Money interview is available from CNBC. Cook also covered topics like Apple's earnings downgrade, iPhone XR sales, and its dispute with Qualcomm.