Apple CEO Tim Cook Calls Reports That iPhone XR is a Flop 'Bologna'
Apple CEO Tim Cook recently sat down for an interview with Mad Money's Jim Cramer, which aired today at 6:00 p.m Eastern Time. CNBC shared tidbits of the interview this morning, but now the full discussion is available.
Cook covered topics that include Apple's recent earnings downgrade, Apple's performance in China, iPhone upgrades, how well the iPhone XR sold, and more.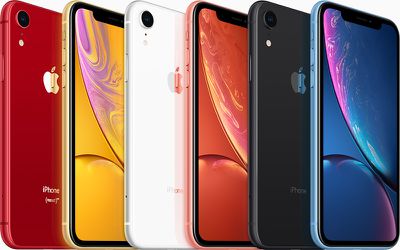 When asked about reports that the iPhone XR was a flop, Cook says he calls "bologna on that." The iPhone XR has, in fact, been the most popular iPhone "every single day" since it started shipping out to customers.
Cook did, however, demur when asked about iPhone XR sales relative to other sales, saying only that he'd like to sell more, and that Apple is "working on that."
According to Cook, naysayers have been saying similar things about Apple for many years now, but Apple is focused on the long term. Cook pointed towards Apple's large active install base, high customer satisfaction rating, and growing services business as positives.
On the topic of poor iPhone sales in China, Cook said that the Chinese economy is slowing, and that trade tension with the U.S. created a "more-sharp downturn." He said that he believes trade tensions are temporary, and that he's heard "some very encouraging words" recently.
As for upgrades, which were impacted in 2018 by the availability of cheaper $29 battery replacements for older devices, Cook said he's not bothered, and that the number of iPhones sold in a 90-day period, which many analysts believe is the "most important metric" is "far, far, far" down on his list of concerns.
This is far, far, far down my list. The point is, if somebody decides to buy an iPhone a little later, because of the battery, huge discount that we gave, they decide to hold on a little longer, I'm I'm great with that.

I want the customer to be happy. We work for them. And so the important thing is that they're happy. Because if they're happy, they will eventually replace that product with another. And the services and the ecosystem around that will thrive.
Apple does plan to encourage upgrades, however, through features like new phone setup, data transfer, and older device trade-ins to lower the base cost of a new device.
Cook went on to explain that Apple's "not about making the cheapest" products, instead focusing on making the "best product that enriches people's lives."
Now, the best phones, we knew that, as we went to the X and then the follow-on of the XS and the XS Max, that everybody would not want to spend $1,000 for the phone. So we made the iPhone XR.
The most important thing, says Cook, is that "customers are satisfied."
A full transcript of Cook's Mad Money interview is available from CNBC.