Apple CEO Tim Cook: Apple's 'Ecosystem Has Never Been Stronger' and Long-Term Health Has 'Never Been Better'
Apple CEO Tim Cook will appear on CNBC's "Mad Money" show this evening, where he will speak with host Jim Cramer, and ahead of the interview, CNBC has shared some of what was discussed.
The topic was, of course, Apple's recent guidance downgrade, where Cook said that factors like poor sales in China, a strong U.S. dollar, and cheap battery replacements impacted Q1 2019 earnings.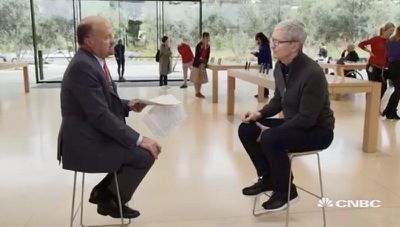 According to Cook, Apple's ecosystem of devices and services is "probably underappreciated" by naysayers, which is something that he's heard over and over again over the years.
"I'm not defensive on it. This is America and you can say what you want," Cook continued. "But ... my honest opinion is that there is a culture of innovation in Apple and that culture of innovation combined with these incredible, loyal customers, happy customers, this ecosystem, this virtuous ecosystem, is something that is probably underappreciated."
Cook went on to say that he wasn't surprised at the drop in Apple stock following the news, because the market is "quite emotional in the short term." Cook says that Apple "looks through all of that" and focuses more on the longer term.
Apple's long-term health has "never been better," the product pipeline has "never been better" and the "ecosystem has never been stronger," especially when it comes to services, according to Cook.
Cook's full interview on "Mad Money" with further commentary on Apple's upcoming earnings is set to air tonight at 6:00 p.m. Eastern Time.