Apple Plans Revamped India Strategy With Official Stores, Year-Long iPhone Deals, and Improved Apps
Apple's ongoing struggles in India have been scrutinized repeatedly over the past few years, and today a new report by Bloomberg has looked into Apple's plan to stay afloat in what's considered the world's "fastest-growing smartphone market."
In an effort to revamp the company's presence in India, Apple CEO Tim Cook is believed to be working behind-the-scenes to "remold Apple's failing India strategy," according to both current and former Apple employees. This plan was kicked off when Apple executive Michel Coulomb began overseeing the company's India strategy at the end of 2017.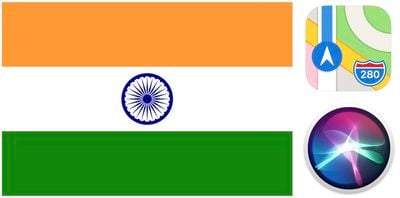 According to the new report, this strategy includes better and longer-lasting retail deals with higher sales targets, the opening of official Apple retail stores in India, "overhauling" the company's relationship with independent retailers, and improving apps and services "aimed more closely at Indians." This last point particularly includes a "revamped" version of Apple Maps that is aimed to launch by 2020.
On the point of services, earlier this year Indian iPhone users discussed Apple's poor performance in this area and one user specifically called Apple Maps "a joke" in the country. While some services like Apple Music were favorably received, others like Siri were identified as low points for Indian customers, as the assistant "often struggles" with local accents and does not understand "many words of Indian origination."
For retail, the official Apple stores are said to open in 2019 and eventually include locations in New Delhi, Bengaluru, and Mumbai. While the Indian government's rules for foreign companies opening shops have previously prevented Apple from launching local stores, the company now builds some of its iPhone SE and iPhone 6s models in India, which is believed to help it meet India's rule requiring these companies to manufacture 30 percent of their products locally.

Because the government has made it tough for Apple to open its own retail stores in India, iPhone prices are less reliable than the company's reputation for strict price controls would suggest. Indian wholesalers and online retailers often raise or lower their prices daily without giving a reason, leading shoppers to haggle or wait in hopes of a better deal, says Subhash Chandra, who runs a 510-store chain of gadget shops called Sangeetha Mobiles. Two leading retail chains say iPhone sales have fallen to one-third of their January level.
In the Indian market, Apple ranks 11th and accounts for just one percent of India's phone sales, selling fewer than one million iPhones during the first half of 2018. Comparatively, rival smartphone maker Xiaomi sold "more than 19 million" during that period, according to data gathered by Counterpoint Research.
As usual, much of the conversation surrounding Apple's disappointing performance in the country is due to its higher smartphone prices in comparison to the company's peers in India. Nagaraja B.C., the manager of a local smartphone store named Poorvika Mobile World, said that his average shopper's budget is "about 10,000 rupees," or $150.
Apple's cheapest model in the market, the locally-made iPhone SE, is nearly twice that price, leading many customers to opt for smartphones like the Xiaomi Redmi 5A at $100. As part of the new strategy, Apple is said to be in talks with retailers and banks to "offer holiday deals year round" to convince customers to purchase its smartphones.