Apple has begun commercial production on the iPhone 6s in India as of last week, according to a new report by The Economic Times, following local manufacturing for the iPhone SE that kicked off in India last year. Production on the 6s started at the Wistron facility in Bangalore, and the model was chosen due to its "sales potential," two senior industry executives reportedly said.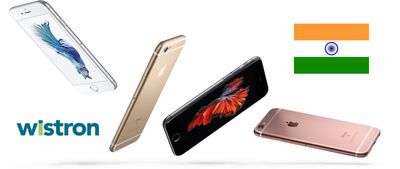 Due to the locally-made devices, Apple will now be able to exempt the iPhone 6s from import duties placed on imported smartphones and their components, which has been an ongoing struggle for the company. A few months ago in February, India announced the latest tax increase on imported mobile phones from 15 percent to 20 percent, and it came under two months after the previous increase.
The tax increases are related to Prime Minister Narendra Modi's "Make in India" program, which aims to promote the country's domestic manufacturing so that more companies build products there. After the iPhone SE plant was set up in early 2017, the iPhone 6s was rumored to be the next of Apple's smartphones to get an "Assembled in India" stamp on the back of each device.
Now, iPhone 6s production in Bangalore has begun and retail availability in the country is expected sometime "soon."

"The made-in-India iPhone 6s will be only sold in India like iPhone SE since it will take time to scale up capacity. In fact, Apple will continue with the import of iPhone 6s until capacity improves. Hence, there will be no price correction for the locally manufactured units. The made-in-India iPhone 6s model will hit the stores soon," an executive said. Apple India did not comment."
On the software side of things, earlier this year users in the country spoke about the poor performance of services like Apple Maps and Siri. One user in Bangalore, Mihir Sharma, told CNBC that "Apple Maps is a joke in India," and many users reported that Siri "often struggles" to make sense and correctly respond to Indian accents. Analyst Faisal Kawoosa said, "There is no denial that the Apple ecosystem isn't aligned much to the usage and value of Indian users," and until Apple can expand its hardware footprint in India most customers believe it will stay that way.