Apple Seeds New iOS 12.1.3 Beta to Developers [Update: Public Beta Available]
Apple today seeded a new beta of an upcoming iOS 12.1.3 update to developers, just a few days releasing iOS 12.1.2, an update that focused on bug fixes for the eSIM feature and changed certain iPhone features in China after a Chinese court found that some iPhones infringe on Qualcomm patents.
Registered developers can download the new iOS 12.1.3 beta from Apple's Developer Center or over-the-air once the proper configuration profile has been installed from the Developer Center.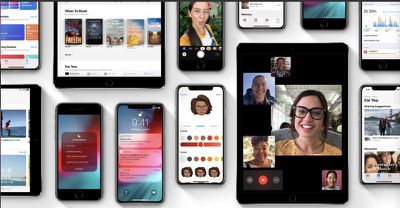 The iOS 12.1.3 beta actually includes the same content that was destined for the iOS 12.1.2 beta, and it appears to be labeled as a second beta rather than a first beta. When Apple released iOS 12.1.2, it featured a build number of 16C101, while the first iOS 12.1.2 beta released for developers had a later 16D build number.
Apple appears to have tweaked iOS 12.1.2 to include some emergency bug fixes and the aforementioned software changes in China, rushing the update out and pushing content originally planned for iOS 12.1.2 to iOS 12.1.3 instead.
Apple was forced to push iOS 12.1.2 out earlier than expected after a Chinese court decided on December 10 that Apple's iPhone 6s through iPhone X infringed on two Qualcomm patents related to resizing and reformatting photos for wallpaper and the app switcher.
The court enacted a preliminary sales ban on the iPhone, leading Apple to make tweaks to the iOS software in China. Apple changed the way apps close when you swipe up on an open app from the app switcher, and it tweaked the share sheet interaction for setting contact and wallpaper images.
Apple has not stopped selling its iPhones in China, despite protests from Qualcomm, and it has said that it is in compliance with the court's preliminary order.
iOS 12.1.3 will mark the fourth update to iOS 12. We don't yet know what features are included, and no major changes were found in the original iOS 12.1.2 beta that was the precursor to iOS 12.1.3. As a 12.x.x update, iOS 12.1.3 likely focuses on minor changes, bug fixes, and operating system tweaks.
If we find anything new in the iOS 12.1.3 beta, we'll update this post.
Update: Apple has made the new beta of iOS 12.1.3 available to public beta testers.