Apple Watch Will Have Extended 45-Day Refund Period Tied to Heart Health Features
While the Apple Watch typically has a 14-day return policy, Apple will honor refund requests related to upcoming heart health features for up to 45 days after purchase, according to an internal document distributed to Apple Stores and Apple Authorized Service Providers in the United States.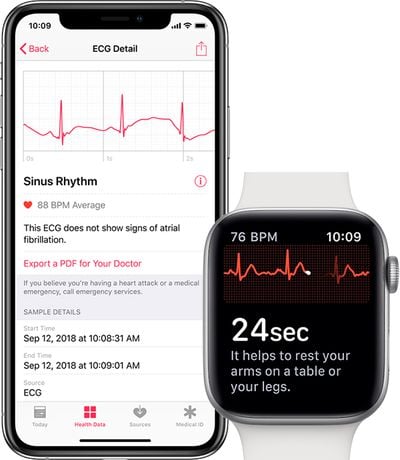 The document, obtained by MacRumors, states that Apple Stores will refer these requests to Apple Support, so customers will need to contact Apple by phone, email, or online chat to initiate a refund beyond the usual two-week period.
Heart health features include the upcoming ECG app on Apple Watch Series 4 models and irregular heart rhythm notifications on Apple Watch Series 1 through Series 4 models. A separate Apple document obtained by MacRumors indicates that the ECG app, and likely the notifications, will be enabled in watchOS 5.1.2.
Apple Stores are not required to inspect the Apple Watch if a customer has a heart health-related refund request greater than 14 days after purchase, so it sounds like as long as a customer mentions the ECG app or irregular heart rhythm notifications as the reason for the return, Apple will honor it up to 45 days.
Apple's document does not provide any further details, so it's unclear why this policy exists. While the ECG app and irregular heart rhythm notifications are regulated features, the extended refund policy is not mandated by the FDA, according to a spokesperson for the agency. Apple did not respond to a request for comment.
Perhaps this is simply more time for customers to try out the heart-related features. Apple cautions that the ECG app is "not intended to be a diagnostic device or to replace traditional methods of diagnosis," and "should not be used to monitor or track disease state or change medication without first talking to a doctor."
To take an ECG reading from the Apple Watch, users will need to place a finger on the Digital Crown while wearing the watch. The reading is completed in 30 seconds, allowing users to determine whether their hearts are beating in a regular pattern or if there are signs of atrial fibrillation.
ECG and other heart data will be collected in the Health app on a paired iPhone 5s or newer running iOS 12.1.1 or later.