Apple Music to Launch on Amazon's Echo Devices the Week of December 17
Apple and Amazon today announced that Apple Music will launch on Echo devices beginning the week of December 17. In a blog post, Amazon explains that Apple Music subscribers will be able to ask Alexa to play their favorite songs, artist, playlists, Beats1 radio stations, and albums, all through an Echo speaker.
One example they give is the command, "Alexa, play Bebe Rexha on Apple Music."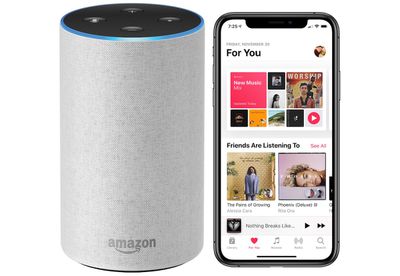 The integration will launch as an Apple Music skill that will need to be enabled within the Alexa app, where users will also be able to link their account to start listening to Apple Music on an Echo speaker. Apple Music will join the ranks of a few other music streaming services already supported on Echo, including Spotify, iHeartRadio, and Pandora.

"Music is one of the most popular features on Alexa—since we launched Alexa four years ago, customers are listening to more music in their homes than ever before," said Dave Limp, senior vice president, Amazon Devices.

"We are committed to offering great music providers to our customers and since launching the Music Skill API to developers just last month, we've expanded the music selection on Alexa to include even more top tier services. We're thrilled to bring Apple Music – one of the most popular music services in the US – to Echo customers this holiday."
Apple Music is said to have over 56 million total subscribers, including those on the free trial. The company is in a battle with Spotify as each tries to grow their numbers. In November, Spotify reported 87 million paid subscribers on its service, and 191 million monthly active users.
These numbers refer to global paid subscriber users, and in a report over the summer it was suggested that Apple Music is actually ahead of Spotify's paid subscriber count in the United States. Both Apple Music and Spotify were said to have more than 20 million paid subscribers in the U.S. as of July 2018, and at the time Apple was "a hair ahead" of its rival.