iPhone XR Now Available SIM-Free in the United States
Apple has made the iPhone XR available SIM-free in the United States, allowing customers to purchase the phone unlocked and unassociated with any carrier. Customers can then choose to obtain a SIM from any carrier of their choice.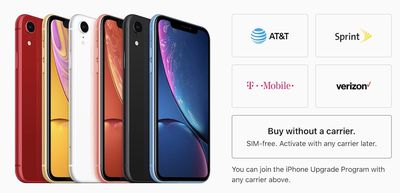 SIM-free iPhone models typically debut in the United States up to several months after the initial product launch as Apple prioritizes supplies for upgrade users already tied in with its carrier partners. The iPhone XS was a bit unusual in that SIM-free models were available from launch day, but that was not the case with the iPhone XR.
SIM-free iPhone XR models are compatible with AT&T, Verizon, T-Mobile, Sprint, and other carriers.
The iPhone XR starts at $749 for 64 GB models available in white, black, blue, yellow, coral, and (PRODUCT)RED. Higher-capacity models are available for $799 (128 GB) and $899 (256 GB).