Apple News Gaining Dedicated 'Election Night' Tab With Real-Time Results
Apple will replace the existing "2018 Midterm Elections" channel in Apple News on November 6 with a new "Election Night" section, providing readers with real-time results of Election Day 2018 (via TechCrunch). The change will happen at 8:00 p.m. ET on November 6 and showcase live results, updates on key races, the latest developments, and more.
To ensure that readers can quickly keep tabs on results, Apple will also replace the central "Digest" tab in Apple News with the Election Night section. Apple is partnering with the Associated Press for the update, using its real-time election results to create dynamic infographics and a complete list of federal election results in every state, as well as House and Senate seats.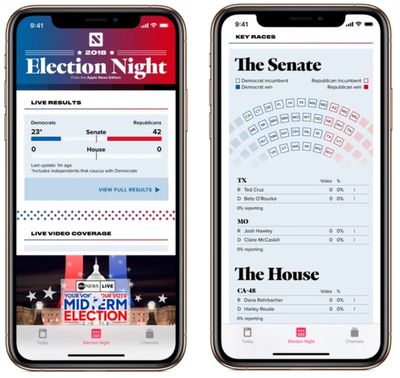 The AP's data will allow Apple News to send out special alerts at the top of the Election Night feed -- or as a push notification if users choose -- to note if the balance of power in either the House or Senate has changed. All of these infographics and results data will automatically update every minute, and there will still be a manual page refresh option to force an immediate update.
Readers can expect the usual news coverage and live video feeds from existing Apple News partners as well:

Another section will focus on the latest developments – meaning breaking news headlines and stories related to election night coverage. This will feature news from a variety of sources including Axios, Politico, The Washington Post, Fox News, CNN, The New York Times, CBS, and others.

CBS News, CNN, and Fox News will also contribute video clips to the Election Night hub, while ABC will offer a live video feed. Another live video feed from NBC News will appear in a widget alongside the Live Results infographic.
Apple says that having a wide range of various news sources was necessary to ensure that all voters were informed about the election, no matter their political leaning. The company also notes that all of the Election Night coverage is not being driven by algorithms, and the November 6 update will see an "all-hands-on-deck" situation for the Apple News team.
This preference for human curation was recently highlighted in a report by The New York Times, which talked with Apple News editor in chief Lauren Kern about how her team approaches daily news curation for Apple. The company's decision to lean more heavily on human-led news selection instead of algorithms is the opposite strategy of rivals like Google News and Facebook, and Kern argues that Apple's way is "really the only legitimate way to do it at this point."
Note: Due to the political nature of the discussion regarding this topic, the discussion thread is located in our Politics, Religion, Social Issues forum. All forum members and site visitors are welcome to read and follow the thread, but posting is limited to forum members with at least 100 posts.