Human Curation Sets Apple News Apart From Algorithm-Focused News Sources Like Google and Facebook
In a new report by The New York Times today, Apple let a reporter take a glimpse inside the human curation process of its Apple News service. The article looks into Apple's news strategy (which is focusing less on algorithm-led news curation like its rivals), the service's future integration with Texture magazine subscriptions, and its issues with ad revenue.
Providing context, the NYT explains how the rise of Google and Facebook came with news delivery that was driven in part by algorithms. While this enabled the companies to point users towards millions of articles, boosting clicks and shares and driving traffic to various sites, the process ended up sometimes emphasizing articles that were sensational, misleading, highly partisan, or simply false. Although both Facebook and Google have now highlighted methods to fight back against "fake news," some view it as too little too late, and now Apple is taking a different approach.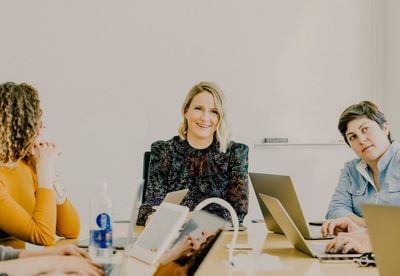 Apple News editor in chief Lauren Kern via NYT
With Apple News, users can select the publishers they like the most, as well as interests like tech or entertainment, and Apple will surface relevant articles every day. The human curation aspect of Apple News comes on the app's main screen: every top article you see is hand selected every day by the company's editors. According to Apple News editor in chief Lauren Kern, "There is this deep understanding that a thriving free press is critical for an informed public, and an informed public is critical for a functioning democracy, and that Apple News can play a part in that."
Following the events of the 2016 presidential election and revelations about Russian spies using algorithm-focused news curation sites to spread misinformation, Apple "remained convinced of the benefits of people."

"We are responsible for what's in there," Roger Rosner, Apple's chief of apps and Ms. Kern's boss, said about Apple News. "We're not just going to let it be a total crazy land."
Kern joined Apple from New York Magazine, and now leads around 30 journalists located across Sydney, London, New York, and Silicon Valley. Among hundreds of pitches from various publishers, the team picks five stories that sit atop Apple News every day, the top two of which also appear in the Apple News widget.
In the interview, Kern explains that there are just some stories that don't pass "the smell test," which has led Apple to avoid covering certain events that were heavily shared across Google News, Facebook, and Twitter. In one example, Apple News did not run a story posted by ABC News concerning the Robert Mueller investigation. As an explanation, Kern explained that the Apple News team's methods can't be "baked into an algorithm."
The main concern brought up in regards to human editors are their potential bias toward certain political coverage. In response, Kern says that bias can be baked into an algorithm's code, and that humans offer far more subtly in the decision making process of sharing the news.

Ms. Kern criticized the argument that algorithms are the sole way to avoid prejudice because bias can be baked into the algorithm's code, such as whether it labels news organizations liberal or conservative. She argued that humans — with all their biases — are the only way to avoid bias.

"We're so much more subtly following the news cycle and what's important," she said. "That's really the only legitimate way to do it at this point."
Some publishers remain concerned with Apple News' future, particularly because of Apple's ad revenue policies. For one, readers on Apple News stay inside of Apple's app for the most part, curbing ad revenue for the publisher of the article and limiting data from direct clicks to the sites. While publishers can sell ads on their stories in Apple News, most say the process is complicated and that advertiser interest was low because of the lack of consumer data.

Some were optimistic that Apple could be a better partner than other tech giants, but were leery of making the company the portal to their readers. "What Apple giveth, Apple can taketh away," said Bill Grueskin, a Columbia University journalism professor and a former editor at The Journal, Bloomberg and other publications. Once readers are trained to get their news from Apple, he said, news organizations will realize: "You're at the mercy of Apple."
Looking to the future, Apple next plans to integrate a magazine subscription service -- acquired through Texture -- into Apple News. When asked about Apple potentially reporting the news itself and not just curating it, Apple's chief of apps Roger Rosner said, "We don't talk about future plans, but that's certainly not what we set out to do." Asked for further clarification, Rosner responded, "Who knows?"
While concerns over ad revenue and the app's future remain, many publishers were positive about Apple News when asked about their opinion of the service. New York Magazine chief product officer Daniel Hallac noted that traffic from Apple News had doubled since last December, as Facebook dropped and Google remained the dominant source of the site's traffic. Looking at the growth, Hallac said that he's "optimistic about Apple News."
To read the full story, head over to The New York Times: "Apple's Radical Approach to News: Humans Over Machines"
Note: Due to the political nature of the discussion regarding this topic, the discussion thread is located in our Politics, Religion, Social Issues forum. All forum members and site visitors are welcome to read and follow the thread, but posting is limited to forum members with at least 100 posts.