iPhone XR Just as Breakable as iPhone XS Based on SquareTrade Drop Test
Apple's lower-cost iPhone XR is just as breakable as the higher end iPhone XS and XS Max, according to new drop test results from warranty company SquareTrade.
Much like the glass-bodied OLED iPhone XS, the iPhone XR's LCD display and aluminum-framed glass back panel both suffered serious damage when dropped on a hard surface.
The iPhone XR was subjected to
the same tests
that SquareTrade did for the iPhone XS and XS Max back in September. During the face down drop test, which saw the device fall six feet onto concrete, the iPhone XR's LCD display shattered after the first drop.
The drop was serious enough that the XR's screen malfunctioned and became unusable, which was the same thing that happened to the XS during its drop test.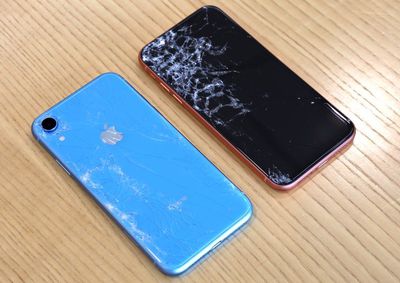 A back down drop test from six feet also saw the iPhone XR shatter on the first drop, resulting in loose glass right around the camera.
The XR successfully survived a bend test, beating out the iPhone XS and matching the performance of the larger iPhone XS Max. The iPhone XR bent at 260 pounds of pressure but didn't crack and continued to work fine, the same result SquareTrade saw with the iPhone XS Max. The iPhone XS, though, cracked at 250 pounds of pressure.
The LCD screen in the iPhone XR has a similar level of durability as the OLED screen featured in the iPhone XS and XS Max. Our tests show that across the board - with both LCD and OLED screens - the all-glass designs of all three new iPhones are susceptible to cracking from drops, which is the most common cause of damage," said Jason Siciliano, vice president global creative director at SquareTrade.
It doesn't cost as much to repair a broken iPhone XR as it does an iPhone XS or XS Max, but it's still pricey. Out-of-warranty iPhone XR screen repairs cost $199, while fixing other damage, which includes a cracked back panel, will cost $399.
Apple offers AppleCare+ for the iPhone XR for $149, which allows for two incidents of accidental damage coverage. With AppleCare+, screen repairs cost $29 while other damage costs $99.