Apple's Latest Mac Mini Turns Four Years Old Ahead of 'Pro-Focused' Refresh Expected Later This Month
The latest Mac mini, introduced on October 16, 2014, is four years old as of this week. For emphasis, it has been 1,462 days since the portable desktop computer was last updated, according to the MacRumors Buyer's Guide.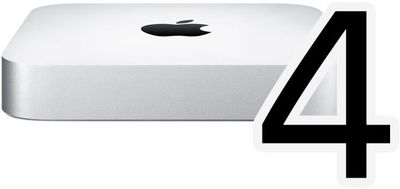 The current lineup, still sold on Apple.com, features five-generation-old Intel dual-core Haswell processors with clock speeds up to 3.0GHz. Other tech specs include up to 16GB of LPDDR3 RAM, up to 1TB of flash storage, and the choice of Intel HD Graphics 5000 or Intel Iris integrated graphics. Prices start at $499.
The good news is that the long wait for an update may be coming to an end, as two reliable sources in Apple analyst Ming-Chi Kuo and Apple scoopster Mark Gurman both expect a new Mac mini to be released later this year.
Kuo didn't have a lot of information to share on the Mac mini, but he said a processor upgrade is expected. Gurman revealed more ambitious plans, claiming that the Mac mini is set to receive a "professional-focused upgrade," with new storage and processor options likely to make it "more expensive" than previous models.
It's unclear if the Mac mini will be redesigned, but the new processor options will hopefully include quad-core options at the very least.
Apple is expected to unveil the new Mac mini at a media event later this month, alongside new iPad Pro models with Face ID, updated iMac models, and an all-new MacBook or MacBook Air at the low end of its notebook lineup.
The big question: when will Apple hold its rumored October event? With invites yet to be issued to the media, and with Apple CEO Tim Cook in Belgium next Wednesday, the most likely date for an October event at this point is Tuesday, October 30, two days before its fourth quarter earnings results.
There's a very slim chance that invites go out today or tomorrow for an event next Wednesday or Thursday, with or without Cook appearing on stage, but Apple likely wants the spotlight to be on the iPhone XR until it launches Friday, October 26.
(Thanks, Jason!)