New iPad Pro Models Spotted in Analytics With Same Resolutions as Current 10.5-Inch and 12.9-Inch Models
Apple is widely expected to introduce new iPad Pro models with Face ID at a media event later this month, and we can now confirm that Apple has been testing those models internally over the past few months.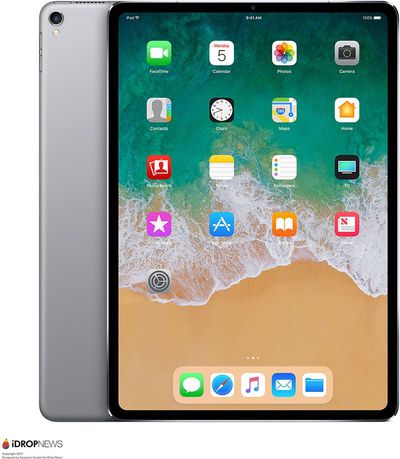 iPad Pro with edge-to-edge display render via iDropNews
Mobile app analytics platform
Appsee
has informed MacRumors that model identifiers iPad8,1; iPad 8,2; iPad8,3; iPad 8,4; iPad 8,5; and iPad 8,8 began to appear in its device logs starting August 1. Earlier this week,
9to5Mac
's Guilherme Rambo claimed those identifiers
represent unreleased 2018 iPad Pro models
.
"The model codes for the Wi-Fi models of the 2018 iPad Pro will be iPad8,1, iPad8,2, iPad8,5 and iPad8,6," said Rambo. "Meanwhile, the cellular-capable models will be iPad8,3, iPad8,4 and iPad8,7 and iPad8,8."
For what it's worth, Appsee has yet to see any iPad8,6 or iPad8,7 sessions appear in its analytics, but those models very likely exist.
What's more interesting is that the new iPad Pro models appear to have the same display resolutions as the latest 10.5-inch and 12.9-inch models. Appsee's logs indicate that the iPad8,1 through iPad8,4 models have a resolution of 1,112×834 points, while the iPad8,5 and iPad8,8 measure in at 1,366×1,024 points.
Point resolution is not pixel resolution, but we can easily find out the latter.
iPad Pro displays use Apple's high-resolution @2x modifier, meaning there are four pixels for every point. As such, simple math reveals that the new iPad Pro models in the logs have resolutions of 2,224×1,668 and 2,732×2,048 pixels, identical to that of the current 10.5-inch and 12.9-inch models respectively.
The data suggests that iPad Pro models with Face ID will have the same-size 10.5-inch and 12.9-inch displays, and retain 4:3 aspect ratios. However, the overall dimensions of the tablets are likely to shrink, as the iPad Pro is expected to receive an iPhone X-esque redesign with an edge-to-edge display.
As far as accuracy is concerned, Appsee has a proven track record at this. The analytics firm discovered the model identifier iPad6,8 with a resolution of 2,732×2,048 pixels in its logs back in August 2015, and Apple introduced the original iPad Pro with that exact resolution the following October.
Appsee describes itself as a powerful qualitative in-app analytics platform that enables app professionals to measure, understand, and optimize the end-users' experience in their mobile apps, driving increased engagement, conversions, and in-app monetization. More information can be found on their website.
However, there are a few rumors that conflict with this data. First, often-accurate Apple analyst Ming-Chi Kuo said the next iPad Pro models will have 11-inch and 12.9-inch displays. If the 10.5-inch model is in fact evolving into an 11-inch version, then the resolution would be different as a result.
Second, dimensions from Japanese blog Mac Otakara and a photo on Slashleaks suggest the new 10.5-inch iPad Pro will be approximately 4mm wider. That does not necessarily mean the display will be larger, though, and it's worth noting that all of the other alleged dimensions are smaller on both models.
One way or the other, we should find out in a few weeks. Apple has yet to invite the media to its rumored October event, and with its CEO Tim Cook in Belgium on October 24, there is an increasing probability that the event might not take place until Tuesday, October 30, give or take a day.