Apple Says iOS 12 is Now Installed on 53% of Active Devices From Last Four Years
Apple's iOS 12 operating system, released on September 17, is now installed on 53 percent of active devices introduced in the last four years.
Apple shared the installation statistics on its App Store support page for developers, which was updated today.
iOS installation rates are being broken down in a new way. The 53 percent statistic applies only to devices released in the last four years. Amid all devices, 50 percent are running iOS 12.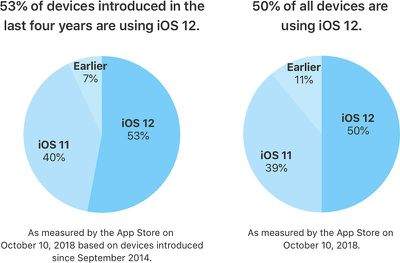 Of devices released in the last four years, 40 percent are running iOS 11 and 7 percent are running an earlier version of iOS. Among all devices, 39 percent continue to run iOS 11 while 11 percent use an earlier version of the operating system.
Apple's data is in line with iOS 12 adoption rates that we've been monitoring from analytics site Mixpanel. A week ago, Mixpanel suggested right around 46 percent of devices were running iOS 12.
iOS 12 adoption has outpaced iOS 11 adoption rates at the same time last year. In early October of 2017, iOS 11 was only installed on approximately 38.5 percent of devices. It took until early November for iOS 11 adoption to hit 50 percent, based on Apple's official numbers.
iOS 12 adoption rates are in line with iOS 10 adoption rates in 2016. On October 11, 2016, iOS 10 was installed on 54 percent of active devices.
It is not a surprise that customers are choosing to install iOS 12 at a more rapid pace given the speed improvements introduced with the update. On older devices, performance enhancements can make iPhones and iPads feel much faster.
On the iPhone 6 Plus, for example, apps launch up to 40 percent faster, while the keyboard can appear up to 50 percent faster. Opening the camera on the Lock screen to take a photo can be done 70 percent faster.
Apple has made animations smoother and more responsive across the operating system, so accessing Control Center, scrolling in apps, or swiping up when multitasking feels more fluid.
iOS 12 also includes optimizations for when the operating system is under load. Apps launch up to twice as fast under a heavy load, as does the Share Sheet.
iOS 12 adoption is likely to see a decent bump with the launch of iOS 12.1, an update that is being beta tested. iOS 12.1 introduces eSIM functionality on the iPhone XS and XS Max, brings Group FaceTime, a feature that was removed before iOS 12 launched, and includes new emoji.