iOS 12 Now Installed on 46% of Devices, Close to Overtaking iOS 11
A little over two weeks after launch, iOS 12 is installed on 46 percent of iOS devices, according to data collected by analytics company Mixpanel.
iOS 12 adoption will soon overtake iOS 11 adoption, as iOS 11 is also installed on just over 46 percent of devices in Mixpanel's daily iOS 12 adoption calculation.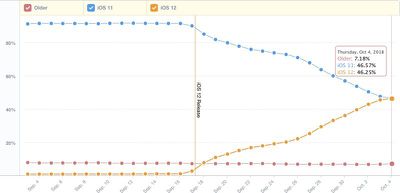 At the time this article was written, iOS 12 was installed on 46.25 percent of devices, while iOS 11 was installed on 46.57 percent of devices. 7.18 percent of devices continue to run an older version of iOS.
It's worth noting that Apple has not yet released official iOS 12 installation numbers. Mixpanel's data has historically overestimated iOS adoption rates compared to Apple's own numbers, but the data is not usually too far off. Even if there's a discrepancy between Mixpanel and actual installation rates calculated by Apple, Mixpanel's data still offers solid insight into adoption rates comparative to the adoption rates of earlier versions of iOS.
iOS 12 adoption rates have outpaced iOS 11 adoption rates at the same time last year. On October 3, 2017, which was two weeks after the launch of iOS 11, the operating system was installed on 38.5 percent of devices, according to Mixpanel data, almost 8 percent less than the 46 percent of devices running iOS 12 at the two week mark.
Customers are adopting iOS 12 at rates that are similar to the adoption rates of iOS 10 in 2016, which was installed on 48.16 percent of devices two weeks after it launched.
It's not surprising that customers are choosing to install iOS 12 at a more rapid pace given the significant speed improvements introduced with the update. On older devices, performance enhancements can make iPhones and iPads feel much faster.
On the iPhone 6 Plus, for example, apps launch up to 40 percent faster, while the keyboard can appear up to 50 percent faster. Opening the camera on the Lock screen to take a photo can be done 70 percent faster.
Apple has made animations smoother and more responsive across the operating system, so accessing Control Center, scrolling in apps, or swiping up when multitasking feels more fluid.
iOS 12 also includes optimizations for when the operating system is under load. Apps launch up to twice as fast under a heavy load, as does the Share Sheet.
MacRumors readers in particular were heavy early adopters, and in a Twitter poll conducted shortly after the launch of the operating system, 85 percent of those surveyed had already installed the update.
iOS 12 has a few bugs, such as a problem that can cause some devices running the operating system
not to charge
over Lightning if plugged in while the display is off, but for the most part, it's a stable update that offers up some serious improvements on older devices that felt slow on iOS 11.