Minecraft for Apple TV Discontinued Due to Lack of Players
Minecraft has reached its end of life on Apple TV. The game has been removed from the tvOS App Store through lack of sales, while existing owners of the near two-year-old title for Apple's set-top box are met with the following announcement upon launch: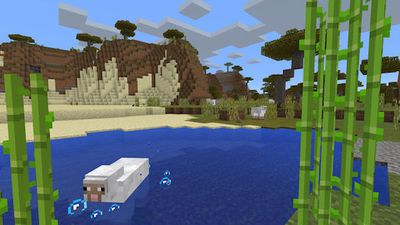 Effective from Monday, 24 September, the Apple TV version of Minecraft will no longer be updated or supported. We're grateful to the Apple TV community for their support but we need to reallocate resources to the platforms that our players use the most. Don't worry though, you can continue to play Minecraft on Apple TV, keep building in your world and your Marketplace purchases (including Minecoins) will continue to be available.
The Apple TV Edition of the wildly popular multi-platform construction game was announced at Apple's October 2016 keynote, where its potential for cross-platform play was enthusiastically promoted. "You can build new worlds on your Apple TV, and play with your friends using iPhones and iPads," said CEO Tim Cook.
The game was officially launched two months later for $19.99, but despite the Minecraft franchise continuing to thrive on other platforms, it looks like the Apple TV version just didn't take off as Apple and developer Mojang had hoped.
The removal of the title appears to be the latest example of the video game industry's continuing lack of interest in the Apple TV, which ships with a touch-based remote rather than a dedicated game controller like typical game consoles do.
Initially, this meant developers were
forced to build in support for Apple's remote
as the primary controller, despite the fact that the Apple TV also works with third-party Bluetooth controllers. Apple eventually
lifted
the restriction following strong criticism, but other lingering issues like poor title discoverability on the App Store and a lack of game-oriented marketing or promotion for the Apple TV have hit the platform's gaming prospects hard.
Mojang's Minecraft: Story Mode, an adventure game based in the Minecraft universe, will continue to be available on Apple TV, while the Microsoft subsidiary said that it would issue full refunds on all purchases of Minecraft: Apple TV Edition made in the last 90 days of the game's availability. Players seeking more information or wanting to check on the status of a refund are advised to contact Apple Customer Service online or call 1-800-692-7753.