Live Coverage of Apple's iPhone XS, iPhone XR, and Apple Watch Event
Apple's "Gather round" event at the Steve Jobs Theater at Apple Park begins at 10:00 a.m. Pacific Time, where it is widely expected to unveil three new iPhones (XS, XS Max, and XR) as well as new, slightly larger Apple Watch models.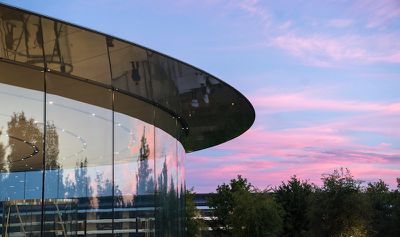 We should also be hearing final details and the official release date for iOS 12, and likely macOS Mojave, watchOS 5, and tvOS 12 as well. And, of course, there may be other announcements and surprises in the cards.
Apple itself leaked a number of details this morning by prematurely updating its store site maps, and we have a summary of what's been revealed right here.
Apple is providing a live video stream on its website, via the Apple Events app on Apple TV, and on Twitter. We've shared instructions on how to watch along with a list of when the keynote starts in time zones around the world.
In addition to Apple's video stream, we will be updating this article with live blog coverage—no need to refresh—and issuing Twitter updates through our @MacRumorsLive account as the keynote unfolds.
Highlights from the event and separate news stories regarding today's announcements will go out through our @MacRumors account.
Sign up for our newsletter to keep up with Apple news and rumors.
Apple's online store is currently down in advance of the event. It should be accessible again shortly after the keynote.
Live blog in chronological order is after the jump.

8:26 am: Members of the press are checking in and milling around waiting to be admitted to the theater. As usual, Apple is providing light breakfast options.






8:31 am: Apple staff members currently blocking access to the actual theater.
9:15 am: The crowd is continuing to gather. Apple should be opening up the theater shortly.
9:22 am: Apple has opened the stairs, and members of the press are now heading down to the theater.



9:56 am: Five minutes to showtime!
10:01 am: Event is getting started with a video showing people heading down to the theater.
10:03 am: Mission: Impossible themed video showing someone rushing a last-minute item from Apple Park to the theater. Kevin Lynch beams himself directly to the theater using his watch.
10:04 am: Apple employee's badge denied access to backstage at the theater, but Kevin Lynch materializes to let her in. Tim Cook opens the briefcase and takes out his presentation clicker.


10:06 am: Cook giving an intro. We've reinvented several product categories, retail, etc. Showing Apple Piazza Liberty in Milan. Over 500 million visitors per year at Apple stores. We love that so many customers have the chance to experience our products there. We aim to put the customer at the center of everything we do.


10:07 am: We're about to ship our 2 billionth iOS device. iOS has changed the way we live, learn, work. It's changed entertainment, how we shop, how we stay in touch with each other. It's only fitting that today we're going to tell you about two of our most personal products. The ones that go with you everywhere.
10:07 am: Starting with Apple Watch.



10:09 am: This category didn't even exist a few years ago. Apple Watch is now the #1 watch, period. It's redefined what a watch can do for you. It's become indispensable for millions of people around the world. Jeff Williams on stage.
10:10 am: Apple Watch is becoming indispensable in three areas: communication, fitness, and health. Talking about heart rate monitoring..."an intelligent guardian for your health."
10:10 am: We're taking Apple Watch to the next level in all of these areas.
10:11 am: Intro video for next generation of Apple Watch.



10:12 am: Apple Watch Series 4. Everything about it has been redesigned and reengineered. It's just beautiful.



10:13 am: Stunning new display pushed right to the corners. Screens are significantly larger...over 30% larger. Minimal size increase, but it's thinner, so volume is actually less.



10:14 am: Brand-new watch face with up to 8 complications. Customize with the things you care about. Add loved ones and tap their faces to connect. Track time zones. Create the ultimate health and fitness watch. Modular face also redesigned with more detail from stock and third-party apps.


10:14 am: Breathe app is now available as a watch face. Raise your wrist, and it will guide you through a breathing sessions. Three breathe faces available.


10:15 am: New fire, water, and vapor faces offer dynamic visuals behind the watch hands.

10:16 am: Digital crown reengineered with haptic feedback. Speaker is 50% louder, which is great for phone calls, Walkie-Talkie, and Siri. Back is made entirely of black ceramic and sapphire crystal. Radio waves can now pass through front and back for improved cellular reception.



10:17 am: Series 4 is just as impressive on the inside. S4 package with 64-bit dual-core processor up to 2x faster.
10:18 am: Accelerometer and gyroscope have 2x the dynamic range with 8x faster sampling and up to 32 g-forces.



10:19 am: Apple Watch Series 4 can automatically detect falls. We did studies with thousands of people and captured data on real-world falls. There are repeatable motions involved to falls, trips, and slips, and the watch can detect them. It can then alert you and offer an Emergency SOS call. Will start call automatically if you're immobile for a minute after the fall.


10:21 am: Optical heart sensor has been integral since the beginning. Count calories, measure heart rate, and high heart rate notifications. Announcing three new heart features. First, low heart rate notification. Low heart rate can be a sign of something serious if not enough blood being pumped.


10:21 am: Second, Apple Watch can screen heart rhythm in the background and can notify you if it detects atrial fibrillation.


10:22 am: Third feature is with a new electrocardiogram (ECG) sensor in the back of the watch. First over-the-counter ECG product offered directly to consumers.


10:23 am: Can take an ECG anytime, anywhere. Open the app, and put your finger on the digital crown. Takes 30 seconds and gives you a heart rhythm classifications...sinus rhythm, atrial fibrillation. Results all stored and can be shared as a PDF with your doctor.
10:25 am: Ivor Benjamin, president of the American Heart Association, on stage. Applauds Apple's commitment to health. People often report symptoms that are absent during a doctor's visit. On-demand ECG is game-changing, especially for atrial fibrillation, which can increase risk of stroke, heart failure, and other complications.



10:27 am: Jeff Williams back on stage. It's great to have the support of the AHA, and we've also received clearance from the FDA. This is the first of its kind. Also, the irregular heart rhythm feature has received FDA clearance. Both features will be available in the U.S. later this year.


10:27 am: It's amazing to think the watch you wear everyday can now take an ECG.
10:28 am: Your personal data remains protected. You should decide who gets to see it. All data is encrypted on device and in the cloud.




10:29 am: Recapping features of the Apple Watch Series 4. You're probably wondering about battery life. Same 18-hour battery life customers have become used to. Increased outdoor workout battery life to six hours.
10:29 am: Showing another Apple Watch video. Jony Ive discussing the redesign and reengineering.


10:31 am: We've developed and refined the form, also making it thinner. New display is seamlessly integrated. The interface has been redesigned for the new display...more information with richer detail. Navigating with digital crown has been entirely reengineered with haptic feedback. New Apple-designed electrical sensor for ECG...a momentous achievement for a wearable device.


10:32 am: Accelerometer, gyroscope, and altimeter give you the ability to track more. Cellular capabilities give you more freedom. Series 4 is a device so powerful, personal, liberating...it can change the way you live each day.




10:33 am: Jeff Williams back on stage. Series 4 available in silver. gold, and space gray aluminum. Stainless steel is even more beautiful...silver, space gray, and gold. All band styles fit all generations of Apple Watch.


10:34 am: Nike+ has been optimized with full-screen interface. Nike Sport Loops have reflective yarn for better visibility. New Hermes models.
10:34 am: Series 4 starts at $399, cellular at $499. Series 3 sticking around starting at $279.






10:35 am: Order starting Friday, available September 21. Series 3 at new prices available right after the show. watchOS 5 available September 17. That's Apple Watch, and now back to Tim.
10:36 am: Showing Apple Watch Series 4 commercial set to the Hokey Pokey.


10:37 am: We love what Apple Watch is doing to get the world moving. Now let's talk about iPhone.


10:38 am: Recapping iPhone X technology and capabilities. So many technologies, all powered by most advanced mobile operating system. iPhone became number one smartphone in the world. Also most loved with 98% customer satisfaction.
10:38 am: Today we're going to take iPhone X to the next level. By far the most advanced smartphone we've ever created. Showing intro video of new iPhone with gold finish.



10:39 am: This is iPhone Xs. Phil Schiller coming up to tell you about it.




10:40 am: It is made of surgical grade stainless steel. Gorgeous new gold finish. Most beautiful iPhone we've ever made. Most durable glass ever in a smartphone. Three finishes: gold, silver, space gray. IP68 protects against water up to 2 meters up to 30 minutes.
10:41 am: Tested in many different liquids, even beer. Some of the most fun, intense testing we get to do.


10:41 am: 5.8" Super Retina OLED display. Plus-size display in a smaller design. So many customers love that. And it looks incredible.





10:43 am: 60% greater dynamic range in display. Not just one, but two sizes available. New 6.5" model. 2688x1242. Same size phone as current Plus size, but bigger display. What's bigger than plus size? iPhone Xs Max.



10:44 am: HDR displays, 120 Hz touch sensing, 3D Touch, tap to wake, True Tone, Wide color.



10:44 am: Stereo sound better than any iPhone to date. Wider field...great for movies, games, and music.



10:45 am: Face ID is a huge step forward. So much technology in that little space. Designed with multiple neural networks so it's secure and seamless. On iPhone Xs has faster algorithms and faster Secure Enclave. Most secure facial authentication ever in a smartphone.


10:46 am: Powering Face ID is our A-series chip. What the team has done is truly breakthrough. A12 Bionic. Industry's first 7nm chip.



10:48 am: Packed with 6.9 billion transistors. 6-core CPU, 4-core GPU, neural engine. CPU has 2 high performance and 4 high efficiency cores. GPU is up to 50% faster. Real blow away thing is the neural engine. 8-core dedicated machine learning engine with smart compute to determined where to run a task.


10:48 am: A11 could process 600 billion operations per second. A12 can process 5 trillion.


10:49 am: Next-generation image signal processor, HEVC encoder/decoder, faster memory controller for up to 512 GB of storage.


10:49 am: A12 Bionic without question the smartest and most powerful in a smartphone. Enables so many great experiences that weren't possible before.


10:52 am: Apps launch up to 30% faster on A12 Bionic. Apps and processes that rely on machine learning...we've used it for years, but what's remarkable this year is it unlocks the power of real-time machine learning. Portrait mode, Animojis, immersive AR, and new Clips app coming this fall will all benefit.
10:53 am: Siri Shortcuts will let you get more done. Demoing "keynote day" shortcut. Launches Home app scene, orders coffee, starts Apple Music playlists, gets directions.




10:54 am: Opening up neural engine to Core ML, which gets up to 9x faster on 1/10th the energy. Frees up GPU for other features like AR, which is another area we're focusing on this year.
10:55 am: ARKit 2, new Measure app, AR Quick Look brings items into the real-world with just a tap.
10:55 am: A12 Bionic enables next-generation apps. We've got three developers to briefly show you. Todd Howard from Bethesda Game Studios on stage for a demo.


10:56 am: I wrote my first game when I was 12 on an Apple II. It's amazing how far we've come. We can now start reaching for games that are more than simple diversions. Let's take a look at new Elder Scrolls game, Blades.


10:57 am: We can pull out all of the detail you'd usually miss from the light and the dark. Lighting can bounce off of the wall. Even reflect off of your sword. We can use stereo widening on the new iPhone to hear the forest around you without headphones.


10:58 am: What used to be limited to your living room is now available on your phone. We can pull off some incredible environments that just weren't possible before.
10:59 am: It's not just immersive, it transports you. Blades coming to iOS this fall. Available for pre-order now.


11:00 am: David Lee from Nex Team and NBA hall of famer Steve Nash on stage to talk about Homecourt.



11:01 am: New tool to revolutionize basketball training. Recognizes hoop and court automatically, then tracks makes and misses, drawn as an overlay on the court. Real-time player detection. Shot science...measures shooting form and more to analyze performance.
11:02 am: Gives players immediate feedback on form, release time, and more. As players train with real-time feedback, they gain muscle memory. Great for beginners and pros. Shipping as an update this fall.



11:03 am: Atli Mar from Directive Games on stage to introduce AR-generated arcade cabinet. And with multi-player AR, everybody can experience it together. Showing Galaga AR.


11:06 am: Now back to Phil. Talking about camera. You all know it's the most popular smartphone camera, and for great reason.
11:06 am: Showing a portrait mode photo that appeared on the cover of Time magazine.


11:09 am: You are going to be blown away with iPhone Xs dual camera system. 12MP wide-angle with all-new sensor, 12MP telephoto. Improved True Tone flash. On the front, TrueDepth 7MP camera has new sensor as well. Image signal processor works with CPU to set exposure, white balance, focus, noise reduction, etc. A12 Bionic does this better than before, but also connects it to the neural engine to do better face detection, facial landmarking with instant red-eye reduction, and better segmentation for portrait mode. 1 trillion operations per photo.




11:10 am: New Smart HDR feature. Takes HDR so much further. If subject is moving, A12 shoots a 4-frame buffer and interframes to bring out details. Plus a long exposure for better shadow detail. Automatically selects best parts of each and combines them for beautiful photos.







11:14 am: Showing examples of Smart HDR photos. Now showing breakthrough bokeh capabilities. New depth slider in portrait mode to adjust depth of field after taking the picture.



11:16 am: iPhone Xs has four microphones to record stereo sound. Showing demo video of cyclists.





11:17 am: Battery life: iPhone Xs has up to 30 minutes more than iPhone X. iPhone Xs Max up to 90 minutes longer than iPhone X.



11:19 am: Dual SIM capability...keep two phone numbers, two different plans, or travel with local plan. Dual SIM Dual Standby (DSDS): both lines are active, and whichever gets the call goes active. Uses eSIM, and software helps you easily keep track od which line is which. Needs carrier support, and we're working with many to roll it out this fall. Physical SIM and eSIM worldwide on Xs and Xs Max, except in China, where it's dual physical SIMs.


11:21 am: Recapping iPhone Xs features. Lisa Jackson on stage to talk environmental friendliness.
11:23 am: Apple now runs on 100% renewable energy. That includes Apple Park with solar panels and directed biogas. But also our data centers. People said it couldn't be done, but we did it. Now we're on to our next challenge...ending mining of materials. So let's take a look at material innovations in iPhone Xs. Now using recycled tin in the logic board. This prevents mining of over 10,000 tons of tin ore per year. Reducing use of traditional plastics and transitioning to recycled and bio-based.
11:25 am: Focus on durability. Everything back to the iPhone 5s runs iOS 12, and keeping devices longer is the best thing for the planet. And when you're done, we have Apple GiveBack. Bring it in or mail it in, and we'll assess it. Either give you value if it can be reused, or recycle it.
11:26 am: Phil back on stage. So iPhone Xs, iPhone Xs Max. They are stunning, best phones we've ever made. We want to reach as many customers as we can, so that's why we're excited to show you one more iPhone. Video time!




11:27 am: So excited to introduce you to the iPhone Xr. 7000 series aerospace grade aluminum. Incredible new finishes...white, black, blue, coral, yellow.




11:29 am: Even a Product Red one. All of these have IP67 protection against dust and liquids. Display is what strikes you. LCD, but for the first time goes edge to edge. Most advanced LCD ever in a smartphone...calling it Liquid Retina. 6.1" on the diagonal 1792x828, 326 ppi.




11:30 am: Tap to wake, 120 Hz touch sensitivity, True Tone, wide color, no home button. Same gestures as iPhone X. No 3D Touch, but new feature called Haptic touch. Face ID.




11:32 am: Faster Face ID algorithms, faster Secure Enclave. A12 Bionic chip with real-time machine learning. 12MP single camera. Same exact wide-angle camera as in Xs and Xs Max.



11:32 am: Can do portrait mode photos, showing examples. Same bokeh as Xs and Xs Max, and depth control.


11:34 am: TrueDepth camera with portrait selfies. Battery life 90 minutes longer than iPhone 8 Plus.



11:35 am: Huge day for iPhone...three new models. Showing a product video with Jony Ive.


11:38 am: iPhone Xs is completely uncompromising. iPhone Xs Max has the largest display ever on an iPhone. Custom developed stainless steel in three finishes including new gold. Better water and dust resistance, most durable glass ever on a smartphone. Face ID reinvents secure unlock, login, and payments. A12 Bionic is the smartest and most powerful chip ever in a smartphone. More advanced dual camera system and neural engine takes us to a new era of photography. Smart HDR gives us images like never before.


11:39 am: iPhone Xr integrates the same breakthrough technologies. Entirely new range of finishes. All-screen Liquid Retina display is most advanced and color accurate display in smartphone. Machine learning can recognize subjects, depth of field is adjustable, and more.
11:40 am: iPhone Xr in 64/128/256 GB options starting at $749. Pre-order October 19, shipping October 26.






11:41 am: iPhone Xs in 64/256/512 GB, starts at $999. iPhone Xs Max in same configurations starting at $1099. Pre-order September 14, ships September 21. Second wave comes just a week later on September 28. Fastest geographic rollout we've ever had.


11:41 am: iPhone 7 and 7 Plus from $449, iPhone 8 and 8 Plus from $599.




11:42 am: iOS 12 launches Monday.


11:43 am: Tim Cook back on stage with brief HomePod update. Talking about stereo pairing and AirPlay 2. Identify songs by lyrics, multiple timers, make and receive calls, find your iPhone. Apple TV to get Dolby Atmos. Updates coming Monday.


11:44 am: macOS Mojave coming September 24.
11:44 am: Tim is now recapping today's announcements.


11:46 am: Tim thanking everyone for watching, and everyone at Apple. Event is over.