As iOS 12 Launch Approaches, iOS 11 Adoption Hits 85 Percent
Apple's iOS 11 operating system is now installed on 85 percent of devices as of September 3, according to updated statistics Apple shared today on its App Store support page for developers.
Apple hasn't updated its adoption statistics since May 31, when iOS 11 was installed on 81 percent of devices, marking a four percent adoption increase over the course of the last several months.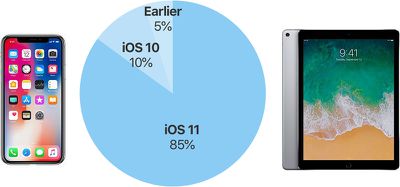 iOS 11 adoption has likely slowed as Apple's focus has shifted to iOS 12, which is set to be released in the near future. Apple's last iOS 11 update was iOS 11.4.1, released in July with bug fixes and support for USB Restricted Mode, not quite features that entice people to upgrade.
With iOS 11 installed on 85 percent of iOS devices, 10 percent continue to use iOS 10 and five percent continue to use an earlier version of iOS, such as iOS 8 or iOS 9.
Over its lifespan, iOS 11 adoption has been slower than iOS 10 adoption, perhaps due to the multiple high-profile bugs affecting iOS 11. The HomeKit bug, the Spectre and Meltdown vulnerabilities, and the iPhone slowdown controversy that saw Apple throttling the performance of older iPhones all likely impacted iOS 11 adoption.
The issues with iOS 11 led Apple to delay some planned iOS 12 features to focus on improving iOS performance and stability. One major focus was bolstering performance on older devices, and iOS 12 is designed outperform iOS 11, introducing faster app launch times, faster load times, and an overall quicker feel to the operating system.
Given the under-the-hood improvements that iOS 12 brings, it's likely we will see faster adoption of the new update than we did with iOS 11. We're expecting Apple to release a golden master version of iOS 12 on September 12, its iPhone event day, which will mark the final version of iOS 12 that will be released to the public.
After that, Apple is likely to debut iOS 12 on Wednesday, September 19, two days ahead of when iPhones are expected to be released on Friday, September 21.