Apple Watch Led Wearables Market in Q2 2018 on Strength of LTE Models
Apple again held the top spot in the wearables market during the second quarter of 2018, shipping 4.7 million Apple Watch units and holding a 17 percent share of the overall wearable market. The new data comes from IDC's Worldwide Quarterly Wearable Device Tracker, which states that the market as a whole was up 5.5 percent due to "gains in emerging markets."
Markets such as Asia Pacific, Central and Eastern Europe, the Middle East and Africa, and Latin America grew 14 percent year-over-year because "basic wristbands" remain in high demand due to their low prices. On the other hand, more mature markets like North America, Japan, and Western Europe declined 6.3 percent year-over-year.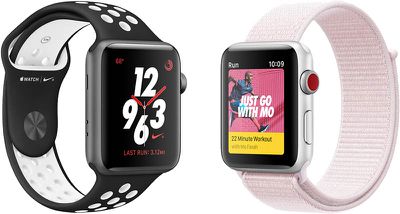 Still, IDC research analyst Jitesh Ubrani says this decline "is by no means worrisome" because the wearables market is transitioning to become "more sophisticated." Instead of tracking basic data points like steps, calories, and workout minutes, future wearables "are well on track to become prescriptive and diagnostic tools." Rumors related to Apple Watch fall in line with this idea, with reports describing future Apple Watch models that could include an EKG heart monitor and track blood glucose levels.

"The decline in mature markets is by no means worrisome as these markets are in the midst of transitioning to more sophisticated wearables," said Jitesh Ubrani senior research analyst for IDC Mobile Device Trackers.

"While the previous generation of wearables was focused on providing descriptive feedback like step counts, the current and upcoming generations are far more capable and are well on track to becoming prescriptive and diagonistic tools. Surrounding these smarter wearables is a constellation of technologies and service providers that includes app developers, telcos, component makers, healthcare insitutuions and more – each poised for growth in the coming years."
Overall, IDC says that "two key forces" were at work in Q2 2018: "stronger demand for smart wearables" and "slower decline in the basic wearables market." IDC's data describes a smart watch as a product like Apple Watch or Fitbit Versa, while a basic wearable is something like the Fitbit Charge or Garmin Vivosport.
With this in mind, the researchers state that Apple saw continued demand for its LTE-enabled Apple Watch Series 3 in the quarter, which came as a "welcome addition to many telco channels worldwide." In total, Apple saw a 38.4 year-over-year growth in its Apple Watch shipments from 2017 to 2018. It should be noted that Apple itself does not report Apple Watch sales figures, so IDC's numbers today are just estimates.


Behind Apple's 17 percent share and 4.7 million Apple Watch shipments was Xiaomi, which owned 15.1 percent of the market and shipped 4.2 million devices in the second quarter, a growth of 19.8 percent from 2017. While Fitbit sat at third place with a 9.5 percent share and 2.7 million units shipped, this was the biggest decline tracked by IDC, dropping 21.7 percent year-over-year.
Rounding out the last two spots were Huawei at a 6.5 percent share and 1.8 million units shipped (growing 118.1 percent from the year-ago quarter) and Garmin at a 5.3 percent share and 1.5 million units shipped (up 4.1 percent). IDC says that Garmin "extended its lead over Samsung," knocking the company out of the top five spots as Garmin's shipment volume of smart watches eclipsed its basic wearables volume.
As smart watches continue to grow in popularity, we're about one week away from the official unveiling of the Apple Watch Series 4, which leaked last week. The wearable will have smaller bezels with more visible screen space, and at least one new watch face that includes more complications than ever before on Apple Watch.