If you've ever wanted to snuggle with your Apple devices, Throwboy has a new Kickstarter project that may be of interest. The new Iconic Pillow Collection includes a selection of plushy pillows that have been designed to look like Apple products.
The collection includes five pillows meant to mimic the Apple II, released in 1977; the first Macintosh, released in 1984; the iMac G3, which was released in 1998 and also happens to be celebrating its 20th anniversary today; the iPod, released in 2001; and the iPhone, released in 2007.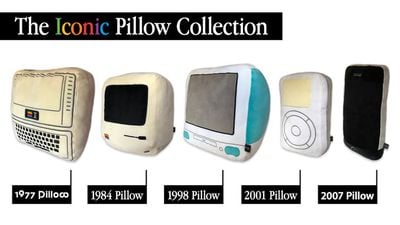 Each of the five pillows features embroidery and design details to make it look like the product it's designed after. The 1984 pillow, for example, has a rainbow logo (not an Apple logo, for trademark reasons), a floppy disk drive, and vents at the sides.


The 2001 iPod pillow features the iPod's two-toned body, a click wheel, and a screen, while the iPhone includes a Home button, speaker, and the silver and black color scheme from the original device.


According to Throwboy, all of its pillows are made from ultra-soft 100 percent vegan fine grain plush, with careful embroidery, woven and silk screen labels, and a poly fiber filling. Each pillow measures approximately 13 x 5 x 13 inches and weighs just about a pound.
The first backers can get a single Iconic Pillow of their choice for $27, after which prices will go up to $33. Pricing on two pillows starts at $54 for early backers, while all five can be purchased by the first backers for $135.


Specific pricing for each tier is available on the Kickstarter project site, and pricing will vary after early bird rewards run out.


Throwboy plans to begin shipping the first of the pillows out in January 2019. While Kickstarter project shipping dates are often delayed, Throwboy is an established company that's been making quirky pillows for a decade, so it's likely that's a reasonable shipping timeline.
Update: Given the strong interest in the Iconic Pillow Collection, Throwboy has added a new pillow representing the well-known Mac beach ball, aka the spinning wheel of death. It can be purchased for $20 alongside any other Iconic pillow.