Apple recently reported sales of 3.72 million Macs in the third quarter, its fewest in any quarter since 2010. It was also the first time Apple sold fewer than four million Macs in any quarter since 2013.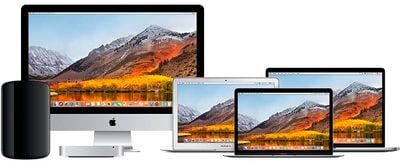 For that reason, it should come as no surprise that Apple's share of the worldwide notebook market took a hit last quarter.
Taiwanese research firm TrendForce estimates that Apple accounted for 6.5 percent of notebook shipments worldwide in the third quarter, a considerable decline over its estimated 10 percent market share in the year-ago quarter.
The decline resulted in Apple dropping below Acer and ranking sixth among notebook vendors, in terms of global shipments, in the third quarter. The top five spots were held by HP at 26.2 percent, Lenovo at 20 percent, Dell at 19.6 percent, Acer at 8 percent, and ASUS at 7.4 percent, according to TrendForce.
It's important to note that Apple doesn't break down its Mac sales on a model-by-model basis in its earnings reports, so TrendForce's data is estimated, likely based in part on the average selling price of a Mac.


There's a pretty simple explanation for the decline in sales last quarter: nearly every product in the Mac lineup was outdated.
Both the 12-inch MacBook and iMac lines haven't been refreshed since June 2017, while the MacBook Air hasn't received any substantial updates since 2015. Likewise, the latest Mac mini is from October 2014, and the Mac Pro hasn't been updated since December 2013, but an all-new version is coming in 2019.
It certainly didn't help that Apple refreshed the MacBook Pro in mid July, nearly two weeks after the quarter ended. Apple's financial chief Luca Maestri highlighted this "difficult launch comparison" in the company's earnings call:
Our year-over-year sales performance was impacted by the different timing of the MacBook Pro launch…
Mac sales should rebound in the near future, however, as TrendForce expects Apple to release a new MacBook Air at the end of the third quarter, while respected Apple analyst Ming-Chi Kuo expects the 12-inch MacBook, iMac, and Mac mini lines to be updated later this year—likely by the end of October.