Apple Expected to Release New MacBook Air at End of Third Quarter: September or October
Apple will release a new MacBook Air at the end of the third quarter, according to Taiwanese research firm TrendForce. That lines up with either September or October, depending on how the wording is interpreted.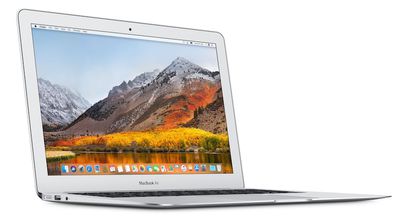 TrendForce also refers to a new MacBook Pro in future tense, but it is surely referring to the models released in July, when the third quarter began:
The second quarter was the transition period when Apple was preparing for the releases of the upcoming new MacBook devices for the year. TrendForce therefore expects MacBook shipments to again post a large QoQ increase in 3Q18, as Apple will be releasing a new MacBook Pro at the start of the quarter and a new MacBook Air at the end of the quarter.
The report does not provide additional details, but both Apple analyst Ming-Chi Kuo and Bloomberg News reporter Mark Gurman expect Apple to release a new entry-level notebook later this year, and they are two of the more reliable sources as it relates to Apple's upcoming product plans.
TrendForce specifically says it will be a new MacBook Air, but Kuo and Gurman have not identified what branding the notebook will have.
Earlier this year, DigiTimes claimed that Apple will release the first MacBook Air with a Retina display in the second half of 2018, and noted that it will be a 13-inch model in a separate report. This week, it said Quanta will assemble new "inexpensive notebooks" from Apple in the fourth quarter.
Whether it turns out to be a MacBook, MacBook Air, or something else, Gurman expects at least one of the entry-level notebooks, if there are more than one, to have a starting price of $999 or less in the United States.
The current MacBook Air hasn't seen any substantial updates in over three years. Since that time, Apple has discontinued the 11-inch model, while the processor on the base 13-inch model received a minor bump in clock speed, but it's still a Broadwell chip from the 2014–2015 timeframe.
Apple could announce availability of a new MacBook Air via press release at any point this fall, or save it for a September or October event. At this point, we lean towards an October release, as the September event should be busy, with a trio of new iPhones, Apple Watch Series 4 models, new AirPods, and more.
With refreshes to other Macs expected later this year, including the iMac and Mac mini, and a widely expected iPad Pro with Face ID, Apple may have enough in its pipeline for an October event, which it last held in 2016.