Nearly one year after Qualcomm received a $773 million fine by Taiwan's Fair Trade Commission regarding how the company prices smartphone chips and patents, Qualcomm this week reached a settlement agreement with the Taiwanese regulators that "reverses most" of the $773 million fine.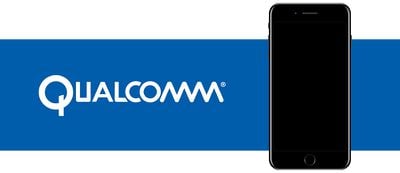 In the settlement, Qualcomm will invest $700 million over the next five years to "boost research activities in Taiwan." The company will also stop paying fines and retains the right to charge manufacturers royalties on its technology. The Taiwanese regulators will keep around $89 million in fines already paid by Qualcomm and "waive the rest."

"Both parties felt the FTC's fines were controversial. And we feel, if we continue with the lawsuit, it will take too long should we take Taiwan's industry progress into consideration," FTC Commissioner Hong Tsai-Lung told reporters. A lengthy legal process "will have a very negative impact on Taiwan's development, so that is why our stand has changed following an internal collective decision."
Despite Taiwan's Fair Trade Commission lifting the pressure off Qualcomm, the company still faces numerous lawsuits and fines, including from Apple. Qualcomm and Apple have been embroiled in an escalating legal battle since the beginning of 2017 after the FTC complained that Qualcomm engaged in anticompetitive licensing practices. Shortly after, Apple sued Qualcomm for $1 billion and accused the company of charging unfair royalties for "technologies they have nothing to do with" and failing to pay for quarterly rebates.
Also in the United States, Qualcomm is facing an FTC lawsuit for using anticompetitive tactics to remain the dominant supplier of baseband processors for smartphones. In Europe, regulators fined Qualcomm $1.2 billion at the beginning of 2018 for paying Apple to use its LTE chips in iOS devices to further ensure Qualcomm's monopoly in the market.
According to Bloomberg, Qualcomm CEO Steve Mollenkopf has said that the company plans to maintain its record of "prevailing in court" for all of the legal challenges it faces. For this year's iPhones, it's expected that Apple will avoid Qualcomm and "solely" use Intel's modems in the smartphones.