Apple Music this week began rolling out a new section in Browse curated by Deutsche Grammophon, known as one of the biggest classical musical labels in the world. In this section, classical music fans will find featured playlists of specific composers, highlighted radio stations, and all-new visual albums stocked with the "full-length performance" of select operas (via Engadget).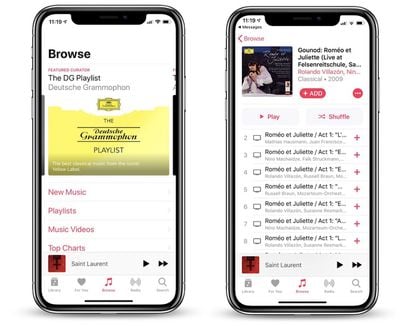 Specifically, one of the three visual albums is a staging of composer Charles-François Gounod's Roméo et Juliette, which was held at the 2008 Salzburg Music and Drama Festival. The visual album includes 32 tracks, which can be played all at once and runs for 2 hours and 33 minutes.
The other operatic visual albums were also staged during the Salzburg Festival, including a Mozart Gala from 2006 and Giacomo Puccini's La bohème opera from 2012, staged at the Grosses Festspielhaus opera house. Of course, Apple Music has launched non-opera visual albums in the past, including Frank Ocean's Endless, but as Engadget notes this is the first time the service has debuted a full-length opera as a visual album.
From the Apple Music editors:

Deutsche Grammophon has been home to the world's greatest musicians ever since gramophone inventor Emile Berliner founded the label in 1898. For decades, legendary conductor Herbert von Karajan epitomized the style and elegance of The Yellow Label - so called for its striking cartouche emblem.

Claudio Abbado and Leonard Bernstein joined him, and now Andris Nelsons and Yannick Nézet-Séguin continue DG's tradition of working with the finest conductors. Among pianists, Daniil Trifonov follows where Wilhelm Kempff and Maurizio Pollini led, while the current roster also stars violinist Anne-Sophie Mutter and soprano Anna Netrebko. Enjoy the best of these artists and more with playlists, albums, and videos.
According to Deutsche Grammophon, its new Apple Music section will be "regularly updated," so fans of classical music can expect to see more of the label's recordings and potentially more visual albums in the future.
Apple Music has seen a few slight updates over the summer, beginning with a new "Coming Soon" section for all users that highlights albums launching in the near future. Earlier this week, the service also began rolling out a "Friends Mix" weekly playlist, which curates a list of 25 songs that your friends have been listening to recently.