Apple CEO Tim Cook this afternoon spoke about the tariffs the United States has imposed on goods imported from China, and how Apple might be impacted.
Cook said that while Apple believes the trade agreements the United States has with other major economies are in need of modernization, the company does not think that tariffs are the right approach. "We're sort of encouraging dialogue and so forth," said Cook.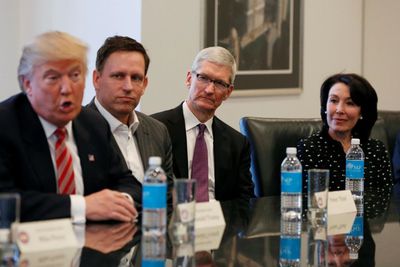 Apple CEO Tim Cook with Donald Trump at the Executive Tech Summit at Trump Tower in December 2016
In terms of the three tariffs that have already been put in place that impact steel, aluminum, and $50B worth of additional goods from China, none of Apple's products have been directly impacted.
A fourth tariff on $200 billion in Chinese goods is out for public comment, and Apple says it is evaluating the tariff and will be sharing its views on it with the administration before the end of the comment period. The original Apple Watch has been named in the latest proposal, alongside devices that include the Fitbit charge and some Sonos speakers. Apple has already discontinued its original Apple Watch and newer Apple Watch models are not impacted.
Cook said that examining tariffs is a "tedious process" because there are factors to consider that include not only revenue, but also purchases being made through other companies unrelated to revenue, such as data centers. Apple plans to share its results at a later date.
According to Cook, the risk associated with a macroeconomic issue like an economic slowdown or currency fluctuation is difficult to quantify, and that's not something Apple is trying to do. Cook said that Apple is "optimistic" that the tariff issue will get sorted out. "There's an inescapability of mutuality between the United States and China," said Cook. "Each country can only prosper if the other does... and the world needs the U.S. to and China to prosper."
Cook said that while he can't predict the future, he's "optimistic" that the countries will get through this. "We're hoping that calm heads prevail," said Cook.
Note: Due to the political nature of the discussion regarding this topic, the discussion thread is located in our Politics, Religion, Social Issues forum. All forum members and site visitors are welcome to read and follow the thread, but posting is limited to forum members with at least 100 posts.