Apple CEO Tim Cook Attends Executive Tech Summit at Trump Tower
Apple CEO Tim Cook visited Trump Tower along with other prominent tech executives on Wednesday as they gathered in New York for a summit with U.S. President-elect Donald Trump, who was accompanied by three of his adult children.
According to The New York Times, the meeting was attended by 11 other tech executives, including Alphabet's Larry Page and Eric Schmidt, Facebook COO Sheryl Sandberg, Amazon CEO Jeff Bezos, Microsoft CEO Satya Nadella, IBM CEO Ginni Rometty, and Tesla's Elon Musk. Vice-President-Elect Mike Pence was also at the table.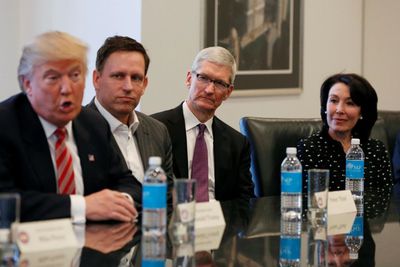 Cook sat two seats away from Trump, beside Facebook board member and Trump transition official Peter Thiel, and listened as the president-in-waiting began by heaping praise on the executives in the room.

"This is a truly amazing group of people. Anything we can do to help this go along, and we're going to be there for you… you'll call my people, you'll call me – it doesn't make any difference, we have no formal chain of command here. We're going to do fair trade deals, we're going to make it a lot easier for you to trade."
According to The Wall Street Journal, executives were then invited to introduce themselves one by one.

"Tim Cook, very good to be here," said the Apple CEO. "And I look very forward to talking to the President-elect about the things that we can do to help you achieve some things you want."
A number of issues were discussed once the press were ushered out of the meeting room. According to several executives who attended the meet, topics included trade, immigration, and vocational education – the latter being one of the main reasons Cook has previously given for why most Apple products are made in China.
Trump has rebuked Apple in the past for basing the vast majority of it assembly plants in other countries. While campaigning earlier this year, Trump said "we're going to get Apple to start building their damn computers and things in this country instead of in other countries", while he has also threatened to introduce a 45 percent tax on products imported from China.
According to USA Today, Trump also told executives at the meeting that he planned to slash the corporate tax rate in the U.S. in order to make it a lot easier to repatriate money kept overseas.

Referring to his commerce and economic administration picks, Trump said they would "make it easier for you to trade across borders, because there are a lot of restrictions, a lot of problems". He added, "If you have any ideas on that, that would be great."
The meeting reportedly ran for two hours and included "productive discussions about job creation and economic growth", said incoming White House Chief of Staff Renice Priebus. At the end of the summit, Trump suggested, and tech leaders agreed to, meeting quarterly, according to a person briefed on the meeting. 
Cook was a Hillary Clinton supporter during the election campaign and hosted a fundraiser for the Democratic presidential nominee in August on behalf of himself. In a company-wide memo issued following Trump's victory, Cook urged Apple employees to "move forward together" despite "uncertainties ahead".
Despite any personal misgivings he may have had in the past, Cook reportedly stayed at Trump Tower after the summit was over to meet privately with the President-Elect for further discussions.
Note: Due to the political nature of the discussion regarding this topic, the discussion thread is located in our Politics, Religion, Social Issues forum. All forum members and site visitors are welcome to read and follow the thread, but posting is limited to forum members with at least 100 posts.