TSMC Ramps Up Production of 7nm Chips Ahead of 2018 iPhones, Invests $25 Billion to Move to 5nm by 2020
Apple supplier Taiwan Semiconductor Manufacturing Company has begun commercial production of chips manufactured using its advanced 7-nanometer process (via
DigiTimes
). One of the major customers for chips built with the technology will be Apple and the A12 processor, which is expected to be found in all three
upcoming 2018 iPhones
.
The announcement comes from
newly appointed TSMC CEO
C.C. Wei, who spoke during the company's technology symposium in Taiwan yesterday in hopes of dismissing recent speculation that TSMC's 7nm production was facing a "slower-than-expected" yield rate. Wei didn't provide specific orders and customers for the 7nm chip output, but indicated the ramp up will boost TSMC's overall production capacity from 10.5 million wafers in 2017 to 12 million in 2018.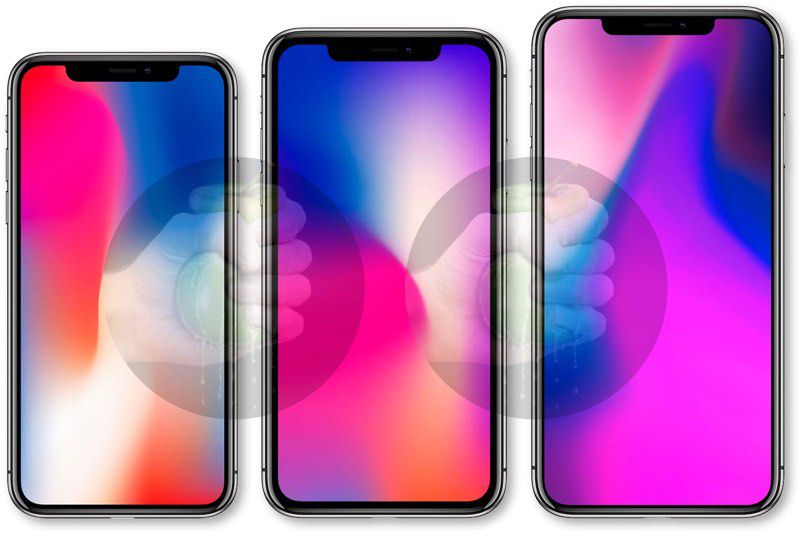 Renderings of the 2018 iPhones
The chips built using the 7nm process technology are destined for AI, GPU, cryptocurrency, and 5G applications -- totaling 50 chip designs by the end of 2018. For iPhones, the new 7nm process will pave the way for the type of performance improvements customers expect in new iPhones every year.
Orders for Apple's custom A12 processor for use in the upcoming iPhones will play a major driver of TSMC's 7nm chip production growth in 2018, according to market sources. The foundry has secured 7nm chip orders from about 20 customers including AMD, Bitmain, Nvidia and Qualcomm. The majority of the orders will be carried out in the first half of 2019, the sources said.
At the technology symposium, Wei also said that TSMC is scheduled to move a new 5nm node technology to mass production towards the end of 2019 or early 2020, with plans to
invest $25 billion into the technology
.
In January,
DigiTimes
reported
that Apple selected TSMC to remain the exclusive supplier of the upcoming A12 processor for its 2018 iPhones, following
rumors from last summer
that Samsung could be returning to iPhone chip production this year. TSMC is the exclusive supplier of the A11 Bionic processor found in the iPhone 8, 8 Plus, and X, as well as the sole supplier of the A10 Fusion processor in the iPhone 7 and 7 Plus.
According to a
DigiTimes report last year
, TSMC's integrated fan-out wafer-level packaging technology -- which the supplier uses in its 7nm FinFET chip fabrication -- is largely superior to any progress made by Samsung in the same field, which eventually led to Apple's decision to stick with one supplier for all of its processors again this year.
Apple's decision to keep TSMC as the sole A-series chip manufacturer in 2018 will mark the third year in a row that the supplier created iPhone chips alone, following the
A10
in 2016 and the
A11 Bionic
in 2017. The last time Apple dual sourced chips was in 2015, when both Samsung and TSMC supplied the A9 chip in the iPhone 6s and iPhone 6s Plus, which frustrated some users when TSMC's technology was
discovered
to boast slightly better battery life.