Schematics and Renderings Depict Apple's 2018 iPhone Lineup
Amid rumors that Apple is working on three iPhones for its fall 2018 lineup, Russian site Wylsa.com has shared alleged schematics and renderings showing off the design and size difference between the three devices.
The site has two schematics, one for the 6.5-inch OLED "iPhone X Plus, which is rumored to have a dual-lens camera, and one for the lower-cost 6.1-inch iPhone, which is said to have an LCD display and a single-lens camera to keep costs low.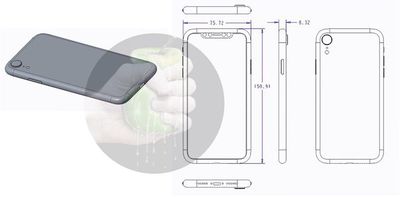 6.1-inch iPhone schematics


According to the schematics, which are from a case manufacturer, the larger iPhone measures in at 77.41mm wide, 157.53mm tall, and 7.68mm thick. The 6.1-inch iPhone measures in at 75.72mm wide, 150.91mm tall, and 8.32mm thick.

6.5-inch iPhone schematics


There is no schematic for the second-generation 5.8-inch OLED iPhone that will be sold alongside the two other devices, presumably because it will continue to have the same dimensions as the current iPhone X. For comparison's sake, the existing 5.8-inch iPhone measures in at 70.9mm wide, 143.6mm tall, and 7.7mm thick.
Several renderings have been created based on the schematics to give us a better picture of what the three iPhones might look like side by side (provided these numbers are accurate, of course).


These renderings do correctly depict rumored features as we've heard them so far. All three iPhones are expected to feature an edge-to-edge display with a notch and a TrueDepth camera system for Face ID, allowing Apple to eliminate the Touch ID fingerprint sensor from its iPhone lineup entirely.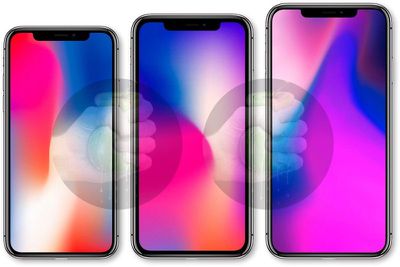 The second-generation iPhone X and the iPhone X Plus, which will be Apple's more expensive flagship devices, feature OLED screens and dual-lens camera systems, while the middle-sized device has a single-lens camera and an LCD display to keep costs lower. Rumors have suggested this device could cost $700 to $800, less than the $1,000+ price tag for the OLED devices.
While the lower-cost 6.1-inch iPhone won't adopt OLED display technology, rumors have suggested it could have a better-than-average LCD, perhaps using MLCD+ display technology and a new cover glass sensor. Former KGI Securities analyst Ming-Chi Kuo has said the switch to new technology means 3D Touch won't be included, but it's still not clear if Apple will implement it through another method.

Rendering of 6.1-inch iPhone next to 6.5-inch iPhone


For full details on all three iPhones that we're expecting to see in 2018, make sure to check out our roundup, which we keep updated with all of the iPhone rumors that we've heard so far.