Verizon Launches Third 'Unlimited' Plan With 75GB of LTE Data
Verizon today announced the launch of a third "Unlimited" data plan option, which provides users with 75GB of LTE data, 20GB of LTE hotspot access, 720p video streaming, 5 TravelPass sessions per month, and 500GB of Verizon Cloud storage.
The new "Above Unlimited" plan joins Verizon's two other "Unlimited" plans, Go Unlimited and Beyond Unlimited. While Verizon calls these plans unlimited, all three have data caps on the amount of LTE data that users can access per month before having their speeds downgraded or limitations on video quality.
The existing Go Unlimited plan, Verizon's cheapest option, provides users with unlimited LTE data, but it restricts streaming video to 480p and limits mobile hotspot speeds to 600Kb/s.
The current Beyond Unlimited plan provides users with 22GB of LTE data per month, with access to 720p video streaming and 15GB of hotspot data.
Neither of the two current plans include TravelPass access or extra cloud storage. Verizon's TravelPass is designed to let customers use their domestic talk, next, and data allowances while traveling outside of the United States for $5 to $10 per day, with Above Unlimited offering five free days.
Verizon's new Above Unlimited plan is priced at $95 for one line, compared to $85 for Beyond Unlimited and $75 for Go Unlimited. For a family of four, pricing for Above Unlimited is at $60 per line. The new plan option will be available for Verizon customers and those new to Verizon starting on June 18.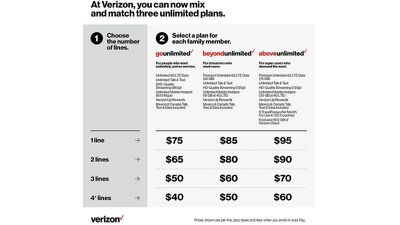 Unlimited data plans from carriers like AT&T, T-Mobile, and Verizon have become increasingly complicated in the year and a half since carriers readopted unlimited data options. All three carriers now offer different unlimited tiers with various add-ons and restrictions, making unlimited cellular data plans as difficult to decipher as prior non-unlimited plans.
In the United States, carriers began seriously embracing affordable "unlimited" data plans starting in 2015, when T-Mobile introduced its simple T-Mobile ONE plan with unlimited talk, text, and 4G data for $70 per month. Verizon followed in February of 2017 with its first unlimited plan, as did AT&T.
Prior to 2015 and T-Mobile's intervention, carriers primarily relied on limited data plans that provided 2-10GB of data to customers after largely eliminating unlimited data plans in the years following the launch LTE networks.