In its latest auction, Charitybuzz is offering one of the first models of the Apple I computer, a rare "Duston 2" (via VentureBeat). Estimated at a value of $600,000, the Apple I computer is the original device that was built by Steve Jobs, Steve Wozniak, and their team in Jobs' parents' home in Los Altos, California in 1976.
The original Apple team is said to have built 200 Apple I computers and "less than 60" are still in existence today, making the new auction extremely rare. The "Duston 2" is operational and named after Adam Duston, one of its previous owners, and includes the original Apple I board, a modified Apple II keyboard, and a modern Stancor power supply mounted on a wooden display board.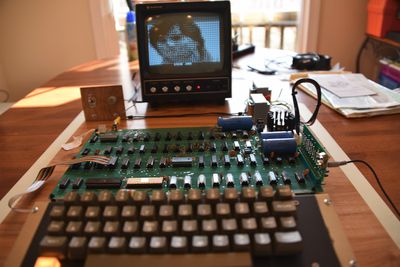 The computer was authenticated by curator Corey Cohen and confirmed to be an original "Byte Shop" Apple I, the first retailer that sold any Apple computers (the Apple I was originally priced at $666.66), with stock number 01-0060. Miscellaneous items include documentation, periodicals, an Apple I advertisement, autographed print by Ron Wayne, a replica Apple Cassette Adapter, and more.

The "Duston 2" Apple-I computer, an operational original Apple-I "Byte-Shop" (stock number 01-0060) from 1976, was acquired by LCF group from Adam Duston of Naperville, Illinois, in August 1996.

It was examined on March 9th, 2018, at a private residence in Virginia. The process included visual inspection of the artifact for condition, originality, and operational condition of the Apple-I system.
As of writing, the first bid sits at $70,000 for the Duston 2, with fifteen days left in the auction. The last major Apple computer-related Charitybuzz auction came for another vintage Apple I computer known as the "Schoolsky." In terms of winning bids, previous Apple 1 auctions have brought in up to $905,000. In 2016, Charitybuzz held an auction for an Apple I computer, the "Celebration" model, that sold for $815,000.
Update: The "Duston 2" Apple I computer sold for $210,000 at auction.