iOS 12 Changes Hint at Redesigned iPad Pros With Face ID and No Home Button Coming This Year
Apple is rumored to be working on a new high-end 2018 iPad Pro that is said to adopt many design elements from the iPhone X including Face ID and the removal of the Home button, and several changes newly discovered in iOS 12 appear to bear out those claims.
As reported by MacRumors yesterday, Apple has tweaked iPad gestures in iOS 12 to bring them in line with gestures on iPhone X. For example, swiping up from the dock brings up the Home screen, as it does on iPhone X in lieu of a Home button.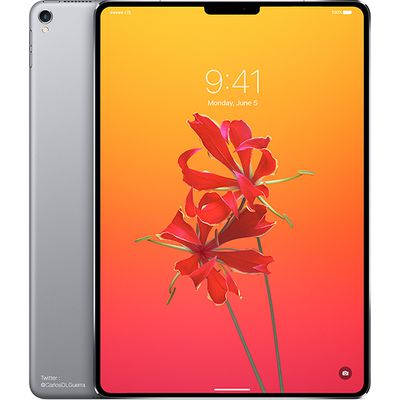 Similarly, users now swipe down from the top right of the iPad to bring up Control Center, rather than swiping up from the bottom. This action was originally introduced in tandem with the iPhone X's notch, which houses Apple's advanced face detection sensors and leaves an "ear" on either side of it.
Likewise, status bar changes to accommodate a possible notch can now be found in iOS 12's iPad interface – the time, day, and date are located on the upper left hand side of the screen, while the right displays the current Wi-Fi/LTE connection, Bluetooth status, and battery life.



Of course, it's possible Apple simply brought over the gestural and menu bar changes to iPad to create interface parity across its iOS lineup, but it's likely Apple is paving the way for redesigned iPads widely believed to be coming later this year.
According to a November report by Bloomberg, the next-generation iPad Pro will feature slimmer edges, a faster processor, a custom Apple-built GPU, and a TrueDepth camera with support for Face ID. The new tablet device will reportedly do away with the Home button.
Well-regarded market analyst Ming-Chi Kuo has also stated he believes new iPad Pro models set to be released in 2018 will come equipped with a TrueDepth Camera and will support Face ID. Whether Apple will adopt a notch for the TrueDepth camera and sensors or simply integrate them into the surrounding bezel remains unclear.
There was some speculation whether Apple would unveil new hardware during last night's keynote, but that didn't happen, and we're now expecting the next round of iOS devices to appear in the fall. In the meantime, stay tuned to MacRumors for more details on all the announcements at this year's WWDC.