Where is the AirPower? That's the question on the minds of many Apple Watch and iPhone owners as yet another event passes by without a launch date for the accessory.
Apple executives made no mention of the AirPower on stage at this year's keynote, dashing hopes that a launch date for the device might come alongside the unveiling of iOS 12, macOS Mojave, tvOS 12, and watchOS 5. It's not a huge surprise, though, as WWDC is a developer focused conference that puts software first.
In past years, Apple has unveiled hardware, but this year's event was focused on software with the sole hardware product being a new Pride Apple Watch band.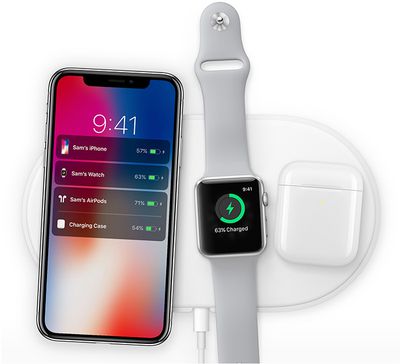 It's now been almost nine months since the AirPower was first introduced in September alongside the iPhone 8, iPhone 8 Plus, and iPhone X. Apple at the time said the device would be released in 2018, and while that launch date hasn't expired, many figured it would be coming earlier in 2018 rather than later.
The AirPower is a unique Qi-based wireless charging accessory that's able to charge an iPhone (X, 8 or 8 Plus), an Apple Watch, and the AirPods (with a new Wireless Charging Case) all at once.
It's not clear why Apple's work on the AirPower is taking so long, but it could be due to the combination of different charging technologies in the device. The Apple Watch Series 3, for example, does not charge over Qi, so Apple needs to merge several wireless charging formats.
We don't know when Apple plans on releasing the AirPower, but at this point, it could be held back until September, launching alongside the new 2018 iPhones. It's also possible, though, that we'll get a surprise press release sometime this summer.
As was predicted, WWDC 2018 was entirely devoid of hardware with the exception of a single new Apple Watch band. Apple announced no new Macs or iPads, despite the fact that most of its Mac and iPad lineup is due for an update. All of these updates could come in September with the new iPhones, or Apple could elect to do another Mac and iPad-focused summer or fall event.