Live From WWDC 2018: Coverage of Apple's Keynote with iOS 12, macOS 10.14, and More
Apple's annual Worldwide Developers Conference (WWDC) starts today at the McEnery Convention Center in San Jose, with the traditional keynote kicking things off at 10:00 AM Pacific Time.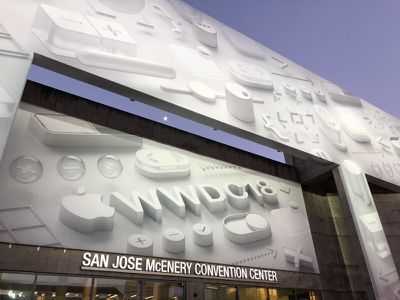 We're expecting to see
a number of announcements
, although it appears Apple will primarily be discussing software this year.
Apple is providing a live video stream on its website and via Apple TV. iOS 12 and macOS 10.14 are expected to be the main focus as usual, with Apple itself leaking macOS details heading into the weekend.
In addition to Apple's video stream, we will be updating this article with live blog coverage and issuing Twitter updates through our @MacRumorsLive account as the keynote unfolds. Highlights from the event and separate news stories regarding today's announcements will go out through our @MacRumors account.
WWDC live blog in chronological order ahead…

8:39 am: Media and attendees are currently queuing up outside the keynote room.




9:01 am: Doors are opening and attendees are heading into the room.


9:09 am: Thanks to Host Duplex for powering MacRumors and today's live blog on their Managed Cloud!
9:46 am: Fifteen minutes until show time. The Wi-Fi and cellular connectivity in the room is... poor.
9:54 am: Apple's stream of the event is up on Apple.com, and the Apple TV. The background is dozens of app icons slowly scrolling across the screen.
9:58 am: Ladies and gentlemen, the event will begin shortly.
10:01 am: Here we go!
10:02 am: As always, we begin with a video. It's a Planet Earth style introduction... "Northern California's Bay Area... here is the stage for a truly remarkable natural occurrence. Every year, a great migration is made by one of the world's most mysterious species."


10:03 am: It's very clever.


10:04 am: Poking fun at taking selfies with Craig Federighi, eating free food, and flooding the keynote theater battling for a "coveted, front-row seat."
10:05 am: Tim Cook comes on stage with a trademark "Good morning! Good morning!"


10:06 am: "It is great to be back in San Jose with everyone."
10:06 am: 77 countries, "more than ever before." "And I couldn't be happier to announce that we have more than 20 million Apple developers around the world. That's more than ever before!"
10:07 am: Next month, the App Store turns 10. In these ten years, the App Store has fundamentally changed the way we all live.


10:08 am: It's the world's largest app marketplace, and we now welcome more than 500 million weekly visitors. We're happy to announce that this week, we're going to achieve another huge milestone. The money that developers have earned through the App Store will top $100 billion.
10:08 am: "This is beyond remarkable."


10:09 am: "We want more people to learn the power of code. And it all starts with Swift and Swift Playground." Swift is the fastest growing programming language out there. Apple developers are already using it in huge numbers. Over 350,000 apps have been written in Swift on the App Store.


10:10 am: We aim to put the customer at the center of everything. That's why, together with you, the developer community, we're working hard to provide new and better experiences for our customers to help them live a better day.
10:10 am: Today is all about software. We have some very exciting updates across all four platforms: iOS, watchOS, tvOS, macOS.
10:10 am: iOS up first.


10:11 am: Craig Federighi up first.


10:11 am: Our next big release of iOS is — you guessed it! — iOS 12. Will be a free update.
10:13 am: iOS 11 supports devices supported back as far as 2013 including the iPhone 5s. Half of customers updated to iOS 11 in seven weeks. 81% of our over one billion active iOS devices are running our latest release. "When you look at the competition, it's hard to say they really have a software update model." (6% on Android) 95% customer satisfaction on iOS 11.


10:13 am: For iOS 12, we are doubling down on performance.
10:14 am: "We're working top to bottom to improvements that will make your device faster and more responsive."
10:14 am: iOS 12 will be available on all the same devices as iOS 11.


10:14 am: On iPhone 6 Plus, for example, apps launch up to 40% faster, keyboard comes up up to 50% faster, 70% faster to the camera from the lock screen.
10:15 am: Share sheet coming up 2x faster, apps launching up to 2x faster under load.
10:16 am: Our collaboration with the chip team has enabled us to optimize iOS across the full range of A-series silicon. When you need a burst of performance, we ramp up processor performance instantly to its highest state. Delivering highest performance, then ramping it down to preserve battery life. Coming to the full range of devices.



10:16 am: Augmented reality is the first feature Federighi calls out.
10:17 am: New file format, developed with Pixar. Optimized for sharing. USDZ. 3D objected placed into the real world. "AR Quick Look"
10:18 am: Adobe CTO Abhay Parasnis comes on stage to help demo the company's augmented reality features.


10:18 am: "There is now a way to deliver AR experiences across the entire iOS." We are going to bring native USDZ support to Adobe's Creative Cloud.
10:19 am: WYSIWYG editing in AR. Sneak peek coming to developers later today.
10:21 am: New app: Measure. Makes it easy to detect objects, measure lines on surfaces, measure lengths. Craig demoing it. Measuring from one end of a suitcase to the other.


10:21 am: Can automatically detect dimensions of objects and measure automatically.
10:22 am: Showing a 3D AR object embedded in a web page in Safari.



10:24 am: ARKit 2, advances with improved face tracking, realistic rendering, 3D object detection, and more.


10:25 am: Common perspective on a shared virtual environment. Demo app shows a table with wooden toys, complete with slingshots that players can shoot objects at each other and knock the toys over.
10:25 am: Martin Sanders, Director of Innovation at LEGO, coming on stage to demonstrate a new LEGO AR app.
10:25 am: "Tried to combine digital and physical together."
10:26 am: Showing a demo of a LEGO model with an entire LEGO city virtualized around it. "It really opens up those creative play possibilities."


10:27 am: Missions and stories to explore. Can play with up to four friends in the same space (with four different iOS devices, naturally).
10:28 am: Driving a virtual car around the city. Allow players to explore the buildings, take them apart and explore inside.
10:28 am: Driving a virtual car around the city. Allow players to explore the buildings, take them apart and explore inside.
10:28 am: Accidentally started a fire in the building, and the fire truck needs to put out the fire. Now a helicopter is going to save people stranded on the roof.
10:29 am: "We can save our entire world back into our physical set, and pick up where we left off.
10:29 am: Photos, next. "Over 1 trillion photos are captured on iPhone each year.
10:30 am: Search with powerful object and scene recognition. Cars, dogs, flowers. Search suggestions like key moments, people, places, and categories like hiking or waterspouts. Search for places by business name or category. Four million events by time and place, sporting events and concerts. Find photos you took at those events.



10:31 am: Featured photos from "on this day" or "looping a Live Photo", or a portrait effect to a photo. Similar proactive suggestions like Google Photos offers.


10:32 am: Sharing suggestions, the app will suggest to share the photos with your friends who are in the images, based in part on who is in the photos. Full resolution sharing. When shared with a user, it suggests to the other person photos they took at the same event that they can share back. Private, end-to-end encryption and on-device machine learning.
10:33 am: Siri next. 10 billion requests processed per month.


10:34 am: Siri feature: Shortcuts. "Any app can expose quick actions to Siri." The Tile app lets you add a shortcut to Siri. Assign a phrase like "I lost my keys." and Siri will activate Tile and show you actions right in the Siri UI. "Shortcut enables incredible possibilities for how you use Siri."
10:35 am: "Let's say you order a coffee every morning... now Siri can suggest it in the morning." Or if you launch an app when you get to the gym every day, Siri can suggest you launch it when you arrive. Or turn on Do Not Disturb at the movies. Or call Grandma on her birthday.


10:35 am: "We went a step further." Shortcuts app, lets users set up their own shortcuts. "Create a shortcut for surf time. Get surf report, current weather, ETA to the beach, and remind you to put on sunscreen when you arrive."


10:36 am: One of the leaders from the Siri Shortcuts team is on stage to demonstrate it.
10:37 am: A suggestion from Philz Coffee, suggesting a daily coffee order on the lock screen. Prompts to call into a meeting from the calendar, or send a text to the organizer.


10:38 am: Adds a shortcut to Siri from the Kayak app, "Travel Plans" prompts with hotel location and check in time.
10:39 am: "Heading Home" shortcut, grabs location and travel time, sends ETA to roommate, sets Homekit thermostat to 70 degrees and turns on fan, and gets directions from Apple Maps for best route home. Adding NPR to listen to on the way home. Basically sets up a bunch of quick user actions that can all be launched simultaneously with a "Heading Home" command to Siri.
10:40 am: Works on iPhone and iPad, commands from HomePod and Apple Watch.
10:41 am: Apple News is up next.
10:41 am: Redesigned Apple News app. Susan Prescott out to demo it.
10:42 am: Stocks app rebuilt. Sparklines added, Apple News embedded into the stocks.
10:42 am: For those keeping track, Apple has had four men and two women on stage so far.


10:43 am: Voice Memo app reworked, and coming to the iPad for the first time.
10:43 am: iCloud support added to Voice Memo.


10:44 am: iBooks reworked — renamed Apple Books. New book store, focus on audiobooks.


10:44 am: iOS 12, CarPlay will support third party navigation.


10:45 am: Waze, Google Maps, etc
10:45 am: Craig back on stage.
10:46 am: "Comprehensive set of built-in features to help you limit distraction, focus, and understand how you're spending your time."


10:46 am: Sometimes you wake up in the middle of the night, and you're confronted with a bunch fo notifications that spin you up. We've added Do Not Disturb during bedtime, where all you see is the clock and no notifications.



10:48 am: We want to give you control over how many notifications you receive. Right from the lock screen, can send future notifications from that app to Notification Center and bypassing the lock screen, or turn them off altogether. Will suggest you turn off notifications for apps you no longer use.




10:49 am: Screen Time, gives insight and control into how you spend your time on the phone. Reports, including a weekly activity summary that shows how you're going to use your phone. Longest continuous session, what sorts of apps your'e using, after bedtime use, how often the phone is picked up.
10:50 am: What apps send the most notifications. Can then make decisions about how much time you want to spend on your device each day. And a little extra help, too. App Limits — if there's an app where you want to spend less time, you can set limits. After you're done, you get "locked" out (can be bypassed)


10:51 am: Parents can get notified of what kids have done, on a per-app basis, from their own device. Parents can lock kids out entirely at bedtime.


10:51 am: Can lock out apps by category or individual app. Might always give access to the phone, or education apps — but limit access to social networking, or "age appropriate" apps and websites. Works across iPhone and iPad, using Family Sharing.
10:51 am: Can lock out apps by category or individual app. Might always give access to the phone, or education apps — but limit access to social networking, or "age appropriate" apps and websites. Works across iPhone and iPad, using Family Sharing.
10:53 am: Animoji adding tongue detection!


10:53 am: New Animoji coming, Ghost, Koala, Tiger, and T-Rex.


10:53 am: New "Memoji!". You can have your personalized Animoji, a total knockoff of bitmoji.


10:55 am: Demonstrating how Memoji are created.
10:56 am: Vaguely reminiscent of the Nintendo Mii, add earrings, hairstyle, skin tone, headwear, etc.



10:58 am: Effects into the messages camera. Snapchat-inspired effects, shapes, text. Stickers, Animoji on your head right in the camera. Memoji takes over the camera.
10:59 am: Kids are going to go crazy for this.
10:59 am: Craig back on stage, to discuss FaceTime.
10:59 am: FaceTime is taking a big leap forward. "Group FaceTime"
11:00 am: 32 person group calls.
11:00 am: Members can join in and drop out of a call.
11:00 am: Audio and video.


11:01 am: When people talk, their video gets larger. Then gets smaller when someone else talks.
11:02 am: Tiles respond quickly, in near-real time. Double-tap on a tab and it gains prominence. Effects brought to the FaceTime camera as well. Animoji in real time on the chat. Kids are going to love this.


11:03 am: Tim Cook jumps into the chat with his Memoji.


11:03 am: New FaceTime works on iPhone, iPad, and Mac — audio-only on the Apple Watch.
11:04 am: Tim back on stage to talk Apple Watch.


11:05 am: Apple Watch #1 in customer satisfaction. "Growth has been off the chart, up 60% in 2017"
11:06 am: Sharing a story about the Apple Watch changing someone's life. Husband and wife, the husband fell into the water in a medical emergency. She jumped into the water and was able to use Siri on her watch to call 911, rescuers were able to come and save his life. "If it wasn't for my Apple Watch, he really would not be here today."
11:06 am: watchOS 5 introduced today, "with even more ways to say active and connected." Kevin Lynch coming on stage now.
11:07 am: Health and Fitness. Focusing on how accurate the data from the Apple Watch is.
11:08 am: Information isn't just accurate, but is meaningful.


11:09 am: WatchOS 5 adds competitions. Seven-day competitions with friends. Progress notifications are sent, to show you where you stand. "If you're competitive, it gives you a whole new way to enjoy the activity app.
11:09 am: Yoga added to the workout app.


11:10 am: Hiking also added, pace, heart rate and elevation gain. Outdoor run improved, adds rolling mile pace, custom pace alerts, and custom cadence display.


11:11 am: Automatic workout detection.
11:11 am: Can start and end the workout automatically.
11:12 am: Being connected. New walkie-talkie feature on the watch.
11:13 am: Nextel is back!


11:13 am: Watch-to-watch connection works over cellular or Wi-Fi.
11:14 am: Adding Sports, Maps, Heart Rate to the Siri watch face. And Siri Shortcuts.


11:14 am: Can add third-party apps to the Siri watch face.
11:15 am: Current to talk to Siri, you have to raise your wrist and say "Hey Siri" to talk to Siri. Now, you just raise your wrist to talk to Siri.
11:16 am: New more interactive notifications, allow you to check in from flights, or complete a ride.


11:16 am: WatchOS 5 adds WebKit to view web content from Mail or Messages. "While we think full browsing doesn't make sense on your wrist," some content does make sense.


11:17 am: Can stream Apple Music on your wrist, adding Podcasts on WatchOS 5.
11:17 am: Upcoming episodes from subscribed podcasts will sync, while others will stream. Playback synced across devices.
11:18 am: A watch demo happening, courtesy of an Apple employee who is riding a stationary bike while doing her demo.




11:24 am: Other features coming to Apple Watch, including Student ID cards — add your student ID to iPhone for Apple Watch. Dorms, dining hall, pay for things, available at certain universities including Duke and University of Alabama, with more to come.
11:24 am: New Pride Edition watch band, for Pride Month. New watch face that matches the band, available today.


11:25 am: Tim Cook back on stage.


11:26 am: Apple TV has been growing 50% year over year. New enhancements coming to Apple TV 4K and tvOS. Apple TV lead designer out to talk tvOS.
11:26 am: Covering how 4K and HDR works on Apple TV.
11:27 am: Apple TV 4K adding support for Dolby Atmos.


11:28 am: iTunes adding Dolby Atmos content as well, iTunes libraries will be upgraded for free on all supported titles.


11:30 am: Talking about how television providers are using Apple TV to stream live and on-demand channels to the Apple TV.
11:32 am: Single Sign-On is getting upgraded to "Zero Sign-On". "If you're on your TV provider's broadband network, we'll securely unlock all apps connected to your subscription service." Charter Spectrum will be the first to support it.


11:34 am: Aerials updated with descriptions about where which video was shot. And swiping between locations. New Aerials videos from the International Space Station.
11:34 am: Nighttime views look amazing.


11:36 am: Mac up next.


11:37 am: "We're excited to take Mac a huge leap forward." New features inspired by pro users but designed for everyone. Craig coming back on stage to talk about it.
11:38 am: New macOS update to be free (again). "Went on a four-year mountain bender" naming versions of macOS. This year, we made some striking changes to macOS. macOS Mojave.
11:39 am: We were inspired by the beauty of the desert at night... And this is one of our new features. Dark mode.



11:40 am: "Some of us are going to want to run Dark Mode just because... it's so cool."
11:41 am: "We were so inspired by this changing desktop wallpaper." New feature: Dynamic Desktop. Your desktop subtly changes throughout the day, from morning, to afternoon, to evening. It's really cool.


11:42 am: Demo time. Desktop up first. Shows a messy, cluttered desktop. Desktop Stacks. All of the contents of your desktop are arranged into stacks. Kind, date, or tag. Click on them and they spread out, then go away. Stay organized. Drag an image to the desktop, and it flies right to the Images stack.


11:44 am: New view for the Finder. "Gallery" view. Previews files above a scrolling row. Can show metadata, and gives quick actions for photos (rotate, etc).
11:45 am: Quick actions allow you to create a PDF by selecting multiple files with a single click. Contextual and customizable. Automator actions.


11:46 am: Can markup or make changes to PDF, trim video, etc, right in Quick Look.


11:47 am: Screenshots improved. Thumbnail appears of a screenshot, can double click the thumbnail and get quick tools to markup the screenshot. Appears to be borrowed from iOS from last year. New screenshot HUD, including screen capture for video.
11:49 am: Continuity Camera, let's you choose "Take Photo" on the Mac — then brings up the iPhone camera, take a picture, then it goes right into the Mac.


11:49 am: Scanning documents is supported as well, pulled right from the phone camera.
11:50 am: Apple News coming to the Mac.


11:51 am: Stocks coming to the Mac.


11:51 am: Voice Memos coming to the Mac.
11:52 am: Home also coming to the Mac. Monitor video cameras or set scenes, and command home with voice through Siri.


11:52 am: Security and Privacy... "One of the reasons that people choose Apple products is because of our commitment to security and privacy."
11:53 am: Your private data should remain private. There's a lot of sensitive data on your devices and we believe you should be in control of who sees it. Secured by state of the art hardware and software, adding greater protections about how apps can access that information. API level protections for location, contacts, photos, calendar, and reminders. Extending protections to camera and microphone, including mail database, message history, safari data, time machine backups, iTunes device backups, and more.


11:54 am: In Safari, like buttons and share buttons, and comment fields can be used to track you. "This year, we are shutting that down." If you do want to interact with these buttons, you'll get an alert. And you can decide to keep your information private.
11:56 am: "Data companies are clever and relentless." When you browse the web, your device can be identified by a unique set of characteristics. Configuration, fonts, plug-ins. Data companies can use these characteristics to construct a fingerprint to track your device from site to site. With Mojave, we're making it much harder for trackers to create a new fingerprint. Simplified system configuration. Only built-in fonts, and legacy plug-rings no longer supported. Your Mac will look like everyone else's Mac. Much harder for data companies to identify your device and track you.
11:56 am: Coming to Mojave and iOS 12.
11:57 am: Mac App Store up next.
11:57 am: Biggest catalog of Mac apps. Trusted and secure place for users, available in 155 countries, with worldwide payment processing and seamless updates.
11:58 am: Redesigned an all-new Mac App Store. New sidebar, with Discover, Create, Work, Play, Develop tabs.


12:00 pm: Microsoft bringing Office 365, Adobe bringing Lightroom CC to the Mac App Store.
12:01 pm: Craig is back to talk about Metal.


12:02 pm: Discussing external GPU support, and rendering video games.
12:03 pm: Showing real-time lighting and post-processing in a video game forest, rendered on a MacBook with external GPU.
12:04 pm: New Machine Learning program to help train AI models.
12:05 pm: Create ML. Talking about how Memrise went from training their AI from 24 hours to 18 minutes on an iMac Pro. This is more advanced developer stuff. Not really aimed at consumers.
12:05 pm: "You don't have to be an expert in machine learning to build those technologies into your apps."
12:06 pm: "Are you merging iOS and macOS?" "No."


12:06 pm: We love the Mac, because it's explicitly created for the unique characteristics of Mac hardware.
12:07 pm: Mac users have an access to a rich set of technologies like AppKit. But Mac users also have access to a lot of other technologies, like WebKit, or cross-platform games built on technologies like Metal. But we think there's room for one more.
12:07 pm: A sneak peek at a multi-year project.
12:07 pm: There are millions of iOS apps out there, and we think some of them would be great on a Mac. Mac users would love to have them there. From a technical standpoint, it's a really good fit. iOS and macOS have shared a common foundation.


12:09 pm: We've taken some key frameworks from iOS and brought them to the Mac. And we've adapted them to specific Mac behaviors. Window resizing, trackpad and mouse input, etc.
12:09 pm: Phase 1 is to test it on ourselves. So this year in macOS, we've taken some of our own iOS apps and brought them to the Mac. You've heard about several of them today. And it turns out they make fantastic Mac apps. And we were able to bring them to the Mac with very few code changes. Coming to developers in 2019, so you can easily bring your iOS apps to the Mac. In the meantime, we hope you enjoy News, Stocks, Voice Memos, and Home in Mojave.


12:09 pm: That's macOS Mojave. I hope you like it. Tim back on stage.
12:10 pm: "What a huge update to macOS, and what an extraordinary morning.
12:11 pm: Updates coming to users this fall, with developer betas available today.
12:11 pm: "Before we close, we wanted to celebrate you, and the amazing work that you do. So we went out and talked to some of the most important people in your lives. The ones that know you the best. And we made a short video. I'd love to run it for you now."
12:11 pm: "What makes a developer, a developer?"
12:12 pm: "I don't have any idea at all, how to create an app. I don't understand any of it. Ask me another question."
12:14 pm: "You have to be really OK with waking up to failure. And at the end of a lot of failures, you'll find something great."
12:15 pm: "The one lesson that I learned... is that determination, tenacity, the focus. He foresaw the impact that the iPhone was going to have and bet everything on building an app for it."
12:16 pm: "We love the work you do, and the impact that it has on the world. It inspires all of us at Apple deeply every day. On behalf of everyone at Apple, thank you." - Tim Cook
12:16 pm: "I'd also like to thank everyone at Apple who made today possible. Days like this only come from years of effort, and hard work, and sacrifice. I thank them and their families. Let's have an incredible week together, thank you!"
12:16 pm: Fin.