21st Century Fox CEO Says Apple Still Just 'Dabbling' in Original TV Content
In early 2017, Apple CEO Tim Cook described the company's plans for original TV content on Apple Music as placing a "toe in the water" for its television ambitions at the time. Eventually, Planet of the Apps and Carpool Karaoke debuted on the service, but since then frequent reports have indicated Apple is now "completely all in" on original content, shifting from reality TV programs on Apple Music to high-quality, $1 billion investments in hour-long programs on par with shows like Westworld.
Despite Apple's evolving plans over the past year and a half, 21st Century Fox CEO James Murdoch still believes Apple to be "dabbling" in the creative original content space. In an interview at Recode's Code Conference this week, Murdoch was asked what advice he would give to companies who are not traditional TV content-creating companies, but who are getting into the original programming business.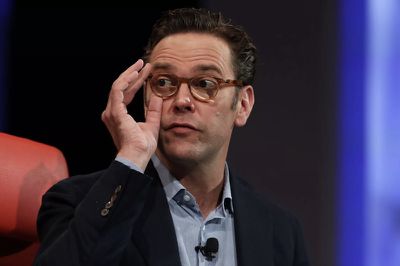 Photo taken by Asa Mathat via Recode
Murdoch explained that 21st Century Fox's angle is "a creative business" and "very entreprenurial," where it empowers creators, creative partners, and creative executives to "push the envelope" in storytelling. He said that "being tolerant of failure is important," leading into his statement about Apple and other companies looking into TV production and their potential fear of failure as an impediment to faster progress.
So, I think the one issue that we see with the kind of, you know, the dabbling, right? If you look at an Apple. Is it ... Going piece by piece, one by one, show by show, et cetera, is gonna take a long time to really move the dial and having something mega. I do think that's gonna be very challenging.
As of now, there are 13 original shows coming from Apple (although how exactly they will launch remains in question), including new episodes of Amazing Stories, an untitled space drama from the creator of the Battlestar Galactica reboot, a Kristen Wiig sitcom, and other projects from names like Damien Chazelle, M. Night Shyamalan, and Octavia Spencer. Apple has set aside a $1 billion "war chest" for the production of these shows, the first of which could launch as soon as March 2019.
Murdoch appears to think that Apple will roll out its shows "one by one," leading into his argument that it will take a while for the company to have a hit on its hands. It's unclear why the CEO believes that to be Apple's plans, however, since neither Apple nor any rumors have suggested how exactly the company will launch its shows, and how many will hit at once.
One of Apple's rivals in the market will be Hulu, which has its own original TV shows like
The Handmaid's Tale
,
Marvel's Runaways
, and the upcoming Stephen King anthology series
Castle Rock
. 21st Century Fox is one of the owners of Hulu, and according to Murdoch
about half
of the
20 million Hulu subscribers
pay for the service's $11.99/month No Commercials tier, upgrading from the Limited Commercials option at $7.99/month.
There's an option for the limited-ad experience, and it's about evens, I think.

I think they say, "You know, for four bucks, I'm getting a limited ad ... Four bucks extra, I can do it this. For four bucks less a month, I'll have limited ads. It's not a terrible experience, the ads, it's a much lighter load than you see in broadcast or cable generally."

So, I think they make a choice. And I think once you empower the customer, and you make it really transparent, that it's really about how they're valuing their time, and how they're valuing and dealing with their priorities, then also they complain a lot less about the ads, because they've been given a choice and empowered. So a lot of, I think, what the whole industry is doing is trying to figure this out.
Murdoch also touched upon the company's plans to sell parts of its media assets to Disney, which now could be complicated with an all-cash offer from Comcast. The CEO was expectedly reserved about specific details regarding what could happen with each offer, but made it clear that the company has given far more thought to the regulatory aspects of the Disney deal than it has to any offer from Comcast, saying Fox will "deal with that as we go."