iTunes Chief Eddy Cue: 'We're All In' on Original Content
Apple iTunes music chief Eddy Cue is at the SXSW conference today, where he sat down for an interview with CNN's Dylan Byers to discuss media, entertainment, and why curation matters.
The major announcement of the event was Apple's pending acquisition of magazine subscription service Texture, which will be integrated into Apple News, but Cue also shared some insight into Apple's original content plans, and much of what he said has been shared on Twitter.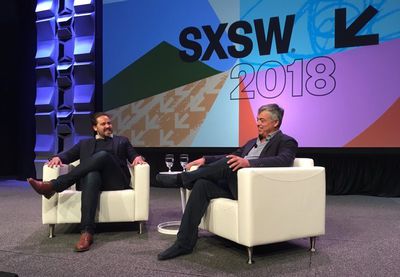 According to Cue, Apple News is a unique service because it isn't focused on advertising, so it's not solely providing the news you want to read - it's also sharing news "you should be reading." Cue says Apple can do that because advertising isn't the focus. "We're not trying to get you to read so we can serve you more ads," he said. "We want to give you a bit of serendipity to see all of what's out there," he added.
On the topic of Apple's content plans, Cue said the company is "all in." "We're completely all in," he said. Apple isn't going to buy a company like Netflix or Disney, though, because the focus is not quantity, it's quality. "You need to have a great story," he said, while also teasing technology that will be a "surprise" to users.
Apple searched for the right people to run an original content team for two years before finding former Sony executives Zack Van Amburg and Jamie Erlicht. Cue says Apple was after someone who "really knew the business but was also willing to think about it differently." Since hiring Van Amburg and Erlicht last year, Apple has inked deals for more than 10 TV shows, many with high-profile actors, producers, and directors.
"We're making big investments," said Cue. "Money isn't an issue." Apple's original content team has grown to about 40 people over the course of the last year.
When asked about sports, Cue said that Apple wants to "augment the experience" rather than own sports content, doing things like sending out notifications when a game stats to enhance the viewing experience. "We think there's a huge opportunity," he said, referring to making sports watching a more interactive experience.
Cue also shared new details on Apple Music. The subscription service has grown to 38 million subscribers, with more than 8 million people using the trial service.
Cue commented on the HomePod, which went on sale in February. He said Apple is happy with the initial sales of the device, which is the "best musicologist there is." Cue said Apple is "very proud" of the device.
Echoing statements Apple CEO Tim Cook has made several times over the course of the past year, Cue said Apple is "very, very optimistic" that AR is going to be huge. It's going to be a mainstream product that everyone uses every day.
He declined to give specifics on the topic of AR hardware outside of the iPhone, though, citing a desire to continue working at Apple. "I've worked for Apple for almost 30 years and hope to work for Apple for another 20 years, so I'm not going to answer questions on future products," he said.